Chicken Vermicelli

Print recipe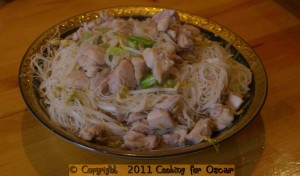 Quick and easy low chemical chicken and vermicelli noodles.
Ingredients
200g Rice vermicelli
3 Garlic cloves (chopped)
1 cup Mung bean sprouts (rinsed)
3 Spring onions (roughly chopped)
300g chicken fillets (cut into small pieces)
4 tablespoons rice bran oil
For the seasoning:
4 tablespoons Golden Syrup
4 tablespoons Water
1 tablespoon Brown sugar
1 teaspoon Citric Acid
1 teaspoon Salt
Directions
1.
Prepare the vermicelli noodles as per the directions on the packet. Drain and set aside.
2.

Mix all the ingredients together for the seasoning and set aside.

3.
Heat up a wok and add the rice bran oil. Add the garlic and stir-fry until it starts to brown.
4.
Add the chicken and stir fry until it is half cooked.
5.
Add the vermicelli and the seasoning, stir well to combine. Stir fry for another 2 to 3 minutes until the noodles turn soft and are no longer wet and the chicken is cooked.
6.
Add in the bean sprouts and spring onions. Stir-fry for another minute until they are cooked.
7.
Serve immediately.
Note
Low Chemical / Failsafe