More orange food – the last for a little while, I promise!
I have a terrible habit of not reading recipes all the way through before I start making them, which sometimes catches me by surprise.   With the rye bread, however, not only did I not read all the way through, I didn't translate to english in full before starting.  This recipe also comes from Svenska Folk Baka Mera! and it looked like a good accompaniment to the soup I was planning to make for dinner.  I translated the first couple of steps to the point where I had to let the hot dough cool for a couple of hours, thinking I would do the rest of the translation while I was waiting.  And that was when I realised that the bread was supposed to rest for a day before serving!  I continued on, and we did eat it that night, but it was definitely better the next day.  The bread has a really lovely flavour and is quite moist.  It lasts well, and can be eaten "fresh" for up to a week.  Oscar loved it – he even ate it Swedish style with jam and cheese!  It's easy to make, but does take a long time, however it is definitely worth the effort.
The soup is based on a recipe from the Sydney Markets site.
Swedish Scalded Rye Bread

Print recipe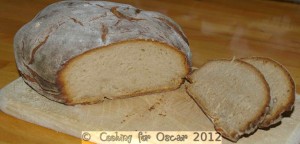 Swedish Scalded Rye Bread, a moist, hearty bread.
Ingredients
6 cups Coarse rye flour
1l Boiling water
6 teaspoons Lowan's Dried Instant Yeast
150ml Buttermilk
1 teaspoon Salt
50ml Golden syrup
4 cups Plain white flour (approximately)
Directions
1.

Place the rye flour in a large bowl. Pour in the boiling water and mix until you have a thick (porridge -like) mush. Let it stand, covered with a clean tea towel, until it cools to body temperature (around 37 C). This takes 2 to 3 hours.

2.

Dissolve the yeast in the butter milk. Add the yeast mixture, salt and golden syrup to the rye flour dough. Add the white flour, holding back 100ml, and work into a smooth, fairly stiff dough.

3.
Let the dough rise, covered, at room temperature for 1 hour.
4.

Turn the dough out onto a lightly floured board (using the held back flour) and knead. Split the dough in half and mould into 2 large round loaves.

5.

Place the loaves on a lined baking tray, and allow to rise, covered, at room temperature for approximately 40 minutes or until light and porous.

6.

Preheat the oven to 175 C. Bake the loaves low in the oven for 1 1/2 hours.

7.

Let the loaves cool, wrapped in a clean tea towel, on a wire rack. Let them rest for 1 day before serving.
Note
Low Chemical / Failsafe
Leaving the bread to rest for 1 day before serving allows the remaining moisture in the bread to spread evenly through the loaf.  You can, however, eat it sooner if you really can't wait.
This bread keeps well in an air tight container for up to a week.
Makes 2 loaves.
Creamy Carrot and Red Lentil Soup

Print recipe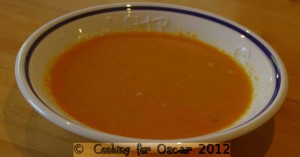 | | |
| --- | --- |
| Serves | 4 |
| Prep time | 5 hours, 15 minutes |
| Cook time | 45 minutes |
| Total time | 6 hours |
| Allergy / Intolerance | Amines, Artificial Addititives, Artificial Colours, Glutamates, Preservatives, Salicylates |
| Suitable for | RPAH Elimination Diet - Moderate Chemical, Salicylate Challenge |
| Meal type | Soup |
| Misc | Child Friendly, Freezable, Pre-preparable, Serve Hot |
Easy and healthy, moderate salicylate carrot and lentil soup.
Ingredients
2 tablespoons Sunflower oil
8 Spring onions (finely chopped)
2 cloves Garlic (crushed)
750g Carrots (roughly chopped)
6 cups Home made chicken or vegetable stock (refer to Basics page)
1/2 cup Dried red lentils (soaked in water for 5 hours then drained)
1 cup Low fat butter milk
Salt
Directions
1.
Heat the oil in a lrge saucepan, then add the spring onions and garlic. Cook for 1 to 2 minutes until softened.
2.
Add the carrots to the pan, and cook, stirring frequently for about 5 minutes.
3.
Add the stock and lentils to the carrots. Cover and bring to the boil. Reduce the heat and allow to simmer until the carrots and lentils are tender, about 30 to 35 minutes.
4.

Purée the soup in a food processor or blender, then return to the saucepan. Stir in the butter milk and season with salt. Reheat over low heat until hot.

5.
Serve.
Note
Moderate Salicylates, Low Glutamates, Low Amines
Refer to Basics page for home made stock recipes.