About my Recipes:
There are a limited number of resources for recipes that deal with these intolerances (mainly Sue Dengate and the Royal Prince Alfred (RPA) hospital in Sydney), so I have spent a lot of time searching the internet and trawling through recipe books for recipes that I can adapt to his limited list of allowed foods.  The recipes on this blog are suitable for Oscar – low to moderate in salicyaltes and glutamates and free of artificial additives, preservatives and colours.  They are not all suitable for the RPAH or FAILSAFE diets, but many are.  Many recipes are also suitable for food challenges and food re-introduction.  Check the categories on the recipes and the notes section to confirm if they are suitable for your circumstances
The RPAH Elimination Diet Handbook is my main source of information about the natural food chemicals contained in foods. The handbook contains a serious of food chemical charts which categorise foods as Low, Moderate, High or Very High overall in their natural food chemical content. Next to each food is the types of chemicals it contains: Amines, Glutamates and/or Salicylates.  It is these charts that I use to modify Oscar's diet and re-introduce foods to increase his tolerance.  Low Chemical foods are the only ones that can be eaten on a strict elimination diet.  These foods also do not contain harmful additives.
Oven Temperatures:  All oven temperatures are for a fan-forced oven, unless stated otherwise.
Note about the RPAH Elimination Diet Handbook: I use the 2009 version of this book, updated in line with the changes in the February 2011 (version 1.1) based on the revisions guide published by the RPAH.
If you are looking for recipes based on which food chemicals they contain, use the Labels section on the right hand side of my blog and select "Low Chemical", "Amines", "Low Salicylates", etc..  This is based on my own list of foods (see resources for how I have compiled this) and you should make your own checks before using any of the recipes.  Recipes listed as Low Chemical are low in salicylates, amines and glutamates.  None of the recipes use ingredients that contain artificial flavours, colours or preservatives.
Note about cheese: unless otherwise stated in the recipe, any recipe that uses "cheese" can be done with either Cream Cheese (Low Chemical) or a mild yellow cheese (Amines).
Note about yogurt:  "Fresh yogurt, natural, plain or vanilla" is listed in the 2011 version of the RPAH Elimination Diet Handbook as low chemical. The previous 2009 version listed "Yogurt" as moderate in Amines. The definition of "fresh yogurt" in the 2011 version is not clear.  All recipes on this site use the moderate amines rating for yogurt. If you are using fresh yogurt then the amine level of that ingredient will be low. There may, however, be other amine ingredients in the recipe.
Note about spring onions / shallots: the terms spring onion, shallot, green onion and eschalot are used interchangeably.  The following diagram shows the one that is low chemical / failsafe, that I refer to as "spring onion".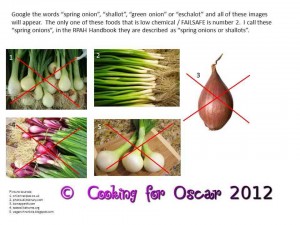 Note about meat: slow cooking and browning meat increases the amine levels, if you need to avoid amines or are on the elimination diet don't slow cook, try to avoid browning meat and remove the skin from chicken as it contains amines.  Amines also increase with the age of meat, so get it as fresh as possible, and if keeping left overs freeze them as soon as the food is cool enough.
Brands: check the Cooking for Oscar Shopping List for the names of the brands of ingredients I use in my recipes.  At the time of writing they are free of artificial flavours, colours or preservatives unless noted otherwise.  Please check the ingredients list on the packaging before purchasing.
Additives to avoid (from the RPAH Handbook)
Colours:
102, 107, 110, 122-129, 132, 133, 142, 151, 155, 160B (annatto)
Preservatives:
200-203, 210-218, 220-228, 249-252, 280-283, 310-312, 319-321
Flavour Enhancers:
621-635, HVP (Hydrolyzed Vegetable Protein), TVP (Textured Vegetable Protein)
Failsafe is Sue Dengate's term for foods that are free of additives, and low in salicylates, amines and flavourenhancers.  Low Chemical foods are failsafe foods.


Please let me know if you find any errors in the recipes.