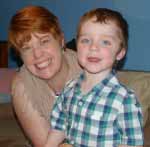 Hi, I'm Oscar's Mum (aka Sandra).  My now 14 year old son was diagnosed with food intolerances just after his first birthday following 4 weeks on an elimination diet. His intolerances included Salicylates, Glutamates, and most artificial flavours, colours, preservatives and additives. This meant that most fruit, vegetables, herbs and spices and processed foods are excluded from his diet. I started this blog to share our experiences and recipes with other's in similar situations.
Oscar's diet is now fairly normal.  He does occassionally overload on chocolate, tomatoes and additives, but for the most part has very little restriction.  As a result, I don't blog or post new recipes here anymore, but there is still plenty for you to explore.
Our Story
Oscar started having sleeping problems when he was about 5 months old. He started waking more and more frequently overnight and was becoming very difficult to settle.  At about 7 to 8 months of age he was waking every 20 to 30 minutes all night long; my husband and I were exhausted. Feeling sure that this wasn't something that could be fixed by letting him cry himself to sleep, we saw a sleep consultant, Pinky McKay.  Pinky saw our son eating a huge bowl of fruit and suggested that he might have a Salicylate intolerance. We removed the fruit from his diet and after 7 days we had a dramatic improvement, with him waking only a couple of times a night. Just to be sure, we added the fruit back and within 3 days the constant waking and restlessness was back. At that point we took him to a dietician who put us on an elimination diet for 4 weeks. I had to do it as well, as we were breastfeeding  It was incredibly hard for the first couple of weeks, but as with our first trial, the results made it all worthwhile. Not only was he sleeping better, but he was a much happier, calmer little boy. 
In hindsight, the sleeping problems started when he started on solid food.  We used the baby led weaning method of introducing solid foods to our son – and he loved it.  His first foods were nectarines and apricots from the tree in our back yard.  We started serving him small amounts of the same foods we ate, and he ate (or tried to eat) all of it.  An early favourite was chicken stir fry with ginger and garlic.  He loved eating.
During the elimination diet, which was difficult for all of us to adjust to, his enjoyment of food decreased dramatically.  If it was sweet he would eat it, if it was savoury he wouldn't touch it.  Potatoes, leeks, cabbage and beans weren't particularly appealing to me either, so I can understand where he was coming from.  He lived for months on creamed rice, tinned pears and toast with pear jam.
We started on a very long process of food challenges; reintroducing groups of food chemicals to see which ones he reacts to. As a result, we discovered that he has intolerances to Salicylates, Glutamates, food colours and most preservatives.  His intolerances to the natural food chemicals was diagnosed as moderate and we have been able to introduce moderate salicylate foods back into his diet. We are now trying to re-introduce some high salicylates, and have been trying to have occasional meals containing very high salicyaltes and additives and preservatives.  The sleep disturbances that we originally saw as reactions no longer occur, instead he experiences "sneaky poos" (can't control his bowels).  I'm not sure which is worse!
His diet was quite limited in fruit and vegetables and because of the food colours and preservatives there was very little processed food he could have, but it wasn't no longer difficult. Not being on the diet was difficult.  
He was a very healthy, happy little boy, who (like most toddlers) hated vegetables (especially green ones).  Our challenge was to make our limited number of vegetables (including the green ones) tasty for a child and make food fun again.  I think we achieved this.  
I discovered a new love of cooking through creating recipes for my family and friends to eat, which are also safe for my son. This blog is about Oscar-friendly food. Food that is low to moderate in salicylates and glutamates, and free of artificial additives, colours and preservatives. And a little bit about the challenges of living with food intolerance along the way.  There are also many recipes that are suitable for the RPAH Elimination diet and FAILSAFE diet.  
P.S Due to spammers, this is the only page that allows comments to be made.  You can also contact me using the email link or via my Facebook page.