Chocolate Cashew Butter Cheesecake

Print recipe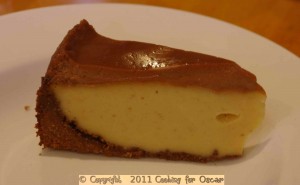 Delicious cashew and chocolate cheesecake. Very easy, very rich and yummy.
Ingredients
Extra butter for greasing
For the base
50g Roasted and salted cashews
100g Dark chocolate chips
200g Arnott's shredded wheatmeal biscuits
50g Unsalted Butter
For the filling
500g Light cream cheese
3 Eggs
3 Egg yolks
200g Caster sugar
125ml Light sour cream
250g Cashew paste/butter (Melrose or Ceres)
For the topping
250ml Light sour cream
100g Milk chocolate chips
30g Soft brown sugar
Directions
1.
Preheat the oven to 170 C. Grease the sides and base of a 23cm springform tin.
2.

To make the base, place the biscuits, cashews, dark chocolate chips and butter in a food processor. Process until the mixture comes together as a clump.

3.

Pour the base mixture into the prepared tin and press into the base and up the sides using your fingers. Place the tin in the fridge to chill while you make the filling.

4.

To make the filling, place the cream cheese, egg, egg yolks, sugar, sour cream and cashew butter into the food processor. Process until you get a smooth mixture. Pour the filling into the base.

5.

Cook for 1 hour, checking after 50 minutes. The top should feel dry and set. Once cooked, remove the cheesecake from the oven and let stand while you make the topping.

6.

To make the topping, place the sour cream, brown sugar and chocolate chips into a small saucepan over low heat. Whisk the mixture to blend in the melting chocolate. Once the mixture is well combined and all the chocolate has melted, take it off the heat.

7.

Carefully pour and spread the topping over the cheese cake. Put it back in the oven for another 10 minutes.

8.

Remove from the oven and allow to cool completely in its tin (about 3 hours). Once cooled, cover it and put it in the fridge to chill for at least 2 hours or until ready to serve.

9.

Remove from the springform tin and serve.
Note
Amines, Low Salicylates, Low Glutamates.
Recipe notes:
All ingredients should be at room temperature before starting.
The cheese cake can be made up to 2 days in advanced and stored in the fridge, covered in glad wrap.  Keep the cheesecake in the tin, to preserve its shape.
Can be stored in the fridge for up to 4 days.
To freeze, keep the cheesecake in its tin and wrap in 2 layers of glad wrap, then a layer of tin foil.  Defrost overnight in the fridge.  Freeze for up to a month.