Chocolate Squidgy Log

Print recipe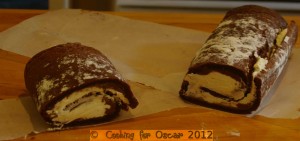 | | |
| --- | --- |
| Serves | 12 |
| Prep time | 1 hour, 30 minutes |
| Cook time | 25 minutes |
| Total time | 1 hour, 55 minutes |
| Allergy / Intolerance | Artificial Addititives, Artificial Colours, Glutamates, Preservatives, Salicylates, Wheat |
| Suitable for | Amines Challenge, Gluten Free, RPAH Elimination Diet - Amines Allowed, RPAH Elimination Diet – Very High Chemical |
| Meal type | Dessert |
| Misc | Child Friendly, Pre-preparable, Serve Cold |
| Occasion | Casual Party, Formal Party, Special Occasions |
| From book | Delia Smith's Complete Cookery Course (omnibus edition, 1983) |
A light moist, wicked flour less cake filled with chocolate mouse and whipped cream.
Ingredients
For the cake:
150g caster sugar
6 Large eggs (separated)
50g cocoa powder
For the filling:
225g dark cooking chocolate
2 Large eggs (separated)
225ml double cream
Pure icing sugar
Directions
1.
Preheat the oven to 180 C. Oil and line a 29 x 18 x 2.5 cm tin, and lightly oil the baking paper.
To Make the Filling:
2.
Break the chocolate into pieces in a bowl and add 2 tablespoons water. Place the bowl over a saucepan of simmering water and let the chocolate melt. Remove from the heat and beat with a wooden spoon until smooth.
3.
Beat the yolks of the 2 eggs on their own, then add and beat into the warm chocolate. Allow to cool for a bit.
4.
Whisk the 2 egg whites until stiff and fold into the chocolate mixture.
5.
Cover the bowl and chill in the fridge about an hour.
To Make the Cake:
6.
Place the 6 egg yolks in a bowl and whisk until they start to thicken. Add the caster sugar and whisk until it thickens slightly - but don't let it get too thick.
7.
Mix the cocoa powder into the egg yolk mixture.
8.
In a separate bowl, use a clean whisk to beat the 6 egg whites until they form soft peaks.
9.
Gently and thoroughly fold the egg whites into the chocolate mixture. Pour the mixture into the prepared tim.
10.
Bake the cake on the centre shelf for 20 - 25 minutes, until springy and puffy. When the cake is cooked, remove fron the oven and leave it in the cake tin to cool. It will shrink as it cools.
To Assemble:
11.
When the cake is cold, turn it out onto a sheet of baking paper that has been liberally dusted with icing sugar. Peel away the the lining paper from the tin.
12.
Spread the chocolate filling over the cake.
13.
Whip the cream softly and spread over the chocolate filling.
14.
Gently roll the cake up to make a log shape. The cake may crack, but this is normal.
15.
Keep the cake covered and store in the fridge until ready to slice and serve.
Note
Very High Amines, Low Salicylate, Low Glutamates, Gluten Free