Gingerbread (or "No-ginger bread") Dough

Print recipe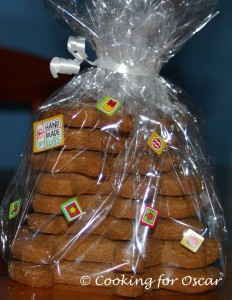 | | |
| --- | --- |
| Serves | 1 batch |
| Prep time | 20 minutes |
| Cook time | 15 minutes |
| Total time | 35 minutes |
| Allergy / Intolerance | Amines, Artificial Addititives, Artificial Colours, Egg, Glutamates, Preservatives, Salicylates |
| Suitable for | RPAH Elimination Diet - Low Chemical / Failsafe, RPAH Elimination Diet – Very High Chemical, Salicylate Challenge |
| Meal type | Sweet Things |
| Misc | Child Friendly, Freezable, Pre-preparable, Serve Cold |
| Occasion | Christmas, Special Occasions |
| By author | Greg Williams, William Angliss Institute |
Gingerbread dough for biscuits or gingerbread houses, low salicylate, no spice
Ingredients
300g butter (melted)
500g white sugar
100g golden syrup
200ml water
10g bicarbonate of soda
600g bakers flour
300g rye flour
Extra rye flour (for rolling)
Refer to notes: (Optional)
7.5g ground ginger (approximately 4 teaspoons)
15g cinnamon (approximately 2 tablespoons)
7.5g ground cloves (approximately 1 tablespoon)
2.5g cardamom (approximately 1 1/4 teaspoon)
2.5g nutmeg or mixed spice (approximately 1 teaspoon)
Directions
1.
Combine the butter, sugar, golden syrup and spices (if using) in a large bowl and mix together by hand.
2.
Place the bicarb soda into a small bowl and add a little bit of the water.
3.
Add the remaining water to the sugar mix then add the bicarb soda.
4.

Blend the flours into the mixture by hand. When the flour is almost all combined turn it out onto a bench and divide into two pieces. Wrap the pieces in plastic and store in the fridge.

5.
To make the gingerbread pieces for a gingerbread house or biscuits, preheat the oven to 190°C and line baking trays with baking paper.
6.

Take a section of one of your pieces of dough and roll it out to 6 mm thick using the extra rye flour for dusting. Work the dough as little as possible. I use two 6 mm pieces of square dowel to ensure an even thickness when rolling.

7.

Cut out the required shapes and transfer to the baking trays.

8.
Add some fresh dough to the scraps and repeat.
9.

Bake the gingerbread in the oven until pressing a finger on top does not leave an impression. For large biscuit cutter shapes this is about 15 minutes, for small ones 8 minutes.
Note
Low Chemical / Failsafe, Very High Salicylates
Gingerbread is best when it is made a couple of weeks in advance and stored in the fridge.  For longer storage place it in the freezer (for up to 2 years).
The cooked biscuits can be used as Christmas decorations and eaten at Christmas (just watch out for ants).  Decorate with Royal Icing, which will harden.
If the spices (very high salicylates) can't be tolerated you can reduced the amount or change the combination of spice or leave it out altogether.  This will obviously change the flavour of the "ginger" bread, but won't affect the texture of the dough.
I used a converter from Gourmet Sleuth to calculate the approximate volumes of the spices listed in grams.
This recipe will make enough dough for one Gingerbread House and plenty of biscuits.