Marshmallow Teddy Bear Cake

Print recipe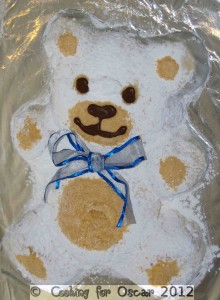 | | |
| --- | --- |
| Serves | 1 cake |
| Prep time | 4 hours |
| Allergy / Intolerance | Amines, Artificial Addititives, Artificial Colours, Dairy, Egg, Glutamates, Preservatives, Salicylates, Wheat |
| Suitable for | Dairy / Lactose Free, Gluten Free, RPAH Elimination Diet - Low Chemical / Failsafe |
| Meal type | Sweet Things |
| Misc | Child Friendly, Pre-preparable, Serve Cold |
| Occasion | Birthday Party, Special Occasions |
| From book | Friendly Food |
Fun, delicious alternative to cake, marshmallow birthday cake
Ingredients
Teddy Bear mould cake tin
Cake board (larger than the cake tin)
Ice
For the marshmallow:
1/3 cup powdered gelatine
1 cup cold water
4 cups white sugar
2 cups boiling water
1/4 teaspoon citric acid
2 teaspoons vanilla extract
To decorate:
maize cornflour (for dusting)
1/3 cup pure icing sugar
1 heaped tablespoon maize cornflour
1/2 cup Rice Bubbles
1 teaspoon carob powder
2 tablespoons pure icing sugar (extra)
Ribbon
Directions
Marshmallow Cake:
1.
Sprinkle the gelatine over the cold water in a small bowl and set aside.
2.
Combine the sugar and boiling water in a large saucepan and stir over low heat until the sugar is dissolved.
3.
Add the gelatine mixture and stir until dissolved.
4.
Bring to the boil and boil uncovered for 15 minutes. Do not walk away as the marshmallow may boil over.
5.
Remove the saucepan from the heat and set aside to cool until lukewarm.
6.
Add the citric acid and vanilla and stir through.
7.
Transfer the mixture into a large bowl, and with an electric mixer beat on high until it is white and thick.
8.
Meanwhile, soak the mould in a sink with ice cubes for at least 5 minutes. Remove from the sink and without drying pour the marshmallow mixture into the mould. Refrigerate for 1 - 2 hours, or overnight, until set.
9.
When the cake has set sprinkle the top woth cornflour and run a hot knife around the edge of the mould. Carefully ease the cake out of the mould with a spatula and onto the cake board.
To decorate:
10.
Sift together the cornflour and icing sugar and sprinkle over the entire cake.
11.
Put the Rice Bubbles into a sealed plastic bag and crush with a rolling pin. Pour the cereal into a piping bag and mark out the bear's ears, eyes, paws, tummy and snout.
12.
Mix the carob powder and the extra icing sugar together then add a few drops of water to make a pipable consistency. Spoon the icing into a piping bag and draw the eyes, nose and mouth.
13.
Tie the ribbon in a bow and use a toothpick to secure to the Bear's neck.
Note
Low Chemical / Failsafe
Note: most gelatine powders contain sulphates.  These can be boiled off but may still be a problem if you are extremely sensitive.