Muesli Pancakes (with Fried Bananas)

Print recipe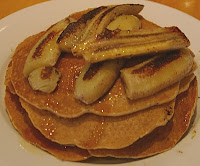 A healthy breakfast combining wholemeal pancakes, muesli and fruit.
Ingredients
1 1/2 cup Wholemeal Plain Flour
1 cup Muesli (Refer to recipe)
2 Eggs
1 1/2 cup Milk
1 tablespoon White sugar
To serve: (Optional)
Fresh fruit (as tolerated)
Maple syrup
Golden Syrup
Rice malt syrup
2 Bananas (Amines)
Directions
| | |
| --- | --- |
| 1. | Preheat the oven to 100 C. |
| 2. | Sift the flour and add the husks back in, combine with the sugar and muesli. |
| 3. | Mix together the eggs and milk and add to the flour mixture. |
| 4. | Slice the bananas in half, then cut each half down the centre lengthways. (optional) |
| 5. | Heat a non-stick frying pan over medium to high heat. (If you don't have a non-stick frying pan, spray the pan with some cooking oil spray or grease with butter.) |
| 6. | Using a soup ladle, pour the batter into the frying pan for each pancake and cook until golden on both sides. As each pancake is cooked, place it on a tray in the oven, until they are all cooked. |
| 7. | If there is room in the frying pan the bananas (if being used) can be cooked at the same time, otherwise cook them before or after the pancakes. Place the bananas in the frying pan and cook until brown on both sides. |
| 8. | Once all the pancakes are cooked, top with bananas or fresh fruit and drizzle with your syrup of choice. |
Note
Low Chemical / Failsafe
Makes 8 pancakes.
Refer here for muesli recipe.