Okonomiyaki

Print recipe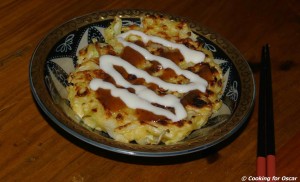 Home made Okonomiyaki.
Ingredients
Rice bran oil (for cooking)
Basic Batter:
1/2 cup white rice flour
1 1/2 cup plain white flour
1 1/2 cup water or home made stock
3 eggs
5 cups cabbage (thinly slice strips 3cm long)
3 spring onions (thinly sliced on the diagonal)
1/2 cup rice crumbs
What you wish: (Optional)
2 cooked failsafe sauges (thinly sliced on the diagonal)
To serve:
Mayonnaise (Refer to recipe)
Okonomi sauce (Refer to recipe)
Directions
1.
Sift together the plain flour and rice flour into a large bowl.
2.
Add the water or stock and whisk until smooth.
3.

Add the eggs, cabbage, spring onions, rice crumbs and sausage and mix until just combined. (If you're not cooking straight away, cover the bowl with cling wrap and store in the fridge until ready.)

4.
Pour a bit of the rice bran oil into a hot frying pan and cover the surface with oil.
5.

Add two ladles full of Okonmiyaki batter to the frying pan and flatten each to 1.5cm thick. Push the batter around the edges to get a roundish shape, about 8 - 10cm in diameter.

6.

After 3 minutes, flip the okonomiyaki over and cook for another 4 minutes.

7.

Flip them over again and cook for another 3 minutes until firm and well browned.

8.

Remove from the frying pan and serve drizzled with mayonnaise and okonomi sauce.

9.
If you want to serve all the okonmiyaki at once pre-heat the oven to 100°C. Place each of the cooked Okonomiyaki into a baking tray and place in the oven covered in foil. Keep adding Okonomiyaki until they are all cooked.
Note
Low Chemical / Failsafe
Okonomi means "what you wish" so feel free to add any other finely sliced meats or vegetable to the basic mixture.
Home made bread crumbs can also be used instead of rice crumbs.
Potato starch can be used instead of rice flour.  The purpose of the rice flour/potato starch is to create a "sticky" batter.
Refer here for recipes referred to above: