Oscar's Christmas Cake

Print recipe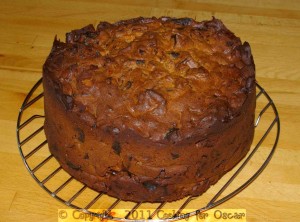 | | |
| --- | --- |
| Serves | 20 |
| Prep time | 10 hours, 30 minutes |
| Cook time | 3 hours |
| Total time | 13 hours, 30 minutes |
| Allergy / Intolerance | Artificial Addititives, Artificial Colours, Glutamates, Preservatives, Salicylates |
| Suitable for | RPAH Elimination Diet - Amines Allowed, RPAH Elimination Diet – Very High Chemical |
| Meal type | Sweet Things |
| Misc | Child Friendly, Freezable, Pre-preparable, Serve Cold |
| Occasion | Christmas |
| By author | My Nana |
A christmas cake made with fruit and nuts containing amines and moderate levels of salicylates. No artificial preservatives, colours or flavours.
Ingredients
225g Butter (softened and chopped)
225g Brown sugar
285g Plain flour
1 teaspoon Baking powder
pinch Salt
4 Eggs
1 tablespoon Pear jam
1/2 cup Whisky (use a good quality whisky)
45g Almonds (chopped)
45g Raw Cashews (chopped)
400g Dried banana (chopped)
200g Dried Pawpaw (chopped)
100g Dried Pear (chopped)
80g Dried Red or Golden Delicious Apple (chopped)
Extra butter or oil (for greasing)
Directions
1.

Prepare the fruit the night before, the longer it can be left, the better. Combine the nuts and dried fruit in a large bowl and pour the whisky over the top. Mix through, then cover and leave over night, stirring occasionally

2.

Preheat the oven to 140 C, positioning the oven rack so that the cake will be in the centre of the oven. Grease a 20cm cake tin and line with 3 layers of baking paper.

3.
Cream the butter and sugar. Add the jam and mix well.
4.
Add the eggs one at a time and beat well after each one.
5.
Sift the flour, salt and baking powder together.
6.

Add a bit of the flour and fruit and mix into the batter. Continue to add the fruit and flour in small amounts until all mixed in.

7.

Pour into the cake tin. Place in the oven and bake for 2 1/2 to 3 hours. The cake is cooked when a skewer placed in the centre comes out clean. Cover the top with foil after 1 1/2 hours to prevent the top from going too dark.

8.

Allow the cake to completely cool in the tin, covered with a tea towel. To store, wrap in baking paper and foil. Store in a cool place in an airtight container.
Note
Very High Amines, Moderate Salicylates, Low Glutamates.
For details on how to make your own dried fruit refer to the Basics page.
For details on where to buy organic/preservative free dried fruit refer to the shopping list.
The quantities of fruit are based on what I had on the day, but could be varied, as long as the overall quantity is the same.
Make this cake up to 4 weeks in advance.  It can also be wrapped in foil then plastic wrap and stored in the freezer.