Pear Sauce

Print recipe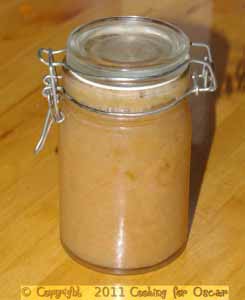 A low salicylate alternative to tomato sauce.
Ingredients
1 1/2 cup pear chutney (see above)
1 leek (chopped)
2 or 3 spring onion
2 teaspoons crushed garlic
1 tablespoon sunflower oil
Directions
1.
Heat the oil in a fry pan, then add the leek, spring onions and garlic. Fry for a few minutes until soft.
2.
Place the leek mixture into a food processor with the chutney and puree until smooth.
3.
Place the puree into a saucepan and bring to the boil, then simmer for 5 to 10 minutes.
4.

Pour into hot sterilised jars. Refrigerate after opening.
Note
Low Chemical