Stuffed Roast Chicken

Print recipe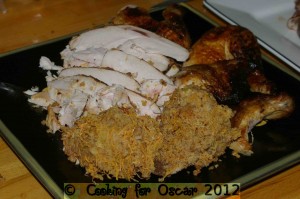 | | |
| --- | --- |
| Serves | 4-6 |
| Prep time | 30 minutes |
| Cook time | 1 hour, 30 minutes |
| Total time | 2 hours |
| Allergy / Intolerance | Amines, Artificial Addititives, Artificial Colours, Dairy, Egg, Glutamates, Preservatives, Salicylates, Wheat |
| Suitable for | Dairy / Lactose Free, Gluten Free, RPAH Elimination Diet - Low Chemical / Failsafe, RPAH Elimination Diet - Moderate Chemical, Salicylate Challenge |
| Meal type | Main Dish |
| Misc | Pre-preparable, Serve Cold, Serve Hot |
| Occasion | Christmas, Easter, Formal Party, Special Occasions |
Roast chicken basted with golden syrup and stuffed with sweet potato.
Ingredients
1 Whole chicken
1 tablespoon sunflower oil
1 tablespoon golden syrup
Sea salt
For the stuffing:
2 spring onions (finely chopped)
1 clove garlic (crushed)
1 tablespoon butter or Nuttelex
1 cup home made bread crumbs (refer to basics page, or use rice crumbs)
60g sweet potato (grated)
Salt
Directions
1.
Melt the butter or Nutelex in a frying pan and add the spring onions and garlic. Cook, stirring, until softened. Remove from the heat and set aside.
2.

Combine the bread/rice crumbs and sweet potato in a bowl. Add the spring onion mixture and combine. Season with salt.

3.
Preheat the oven to 180 C.
4.

Wash the chicken and pat dry. Fill the cavity with the stuffing.

5.

Close the cavity by tying the legs together with string.

6.
Combine the oil and golden syrup in a small saucepan and heat until warm. Brush over the chicken, then sprinkle lightly with sea salt.
7.

Place the chicken into a roasting pan, breast side up, and cook as per the instructions, or approximately 20 - 30 minutes per 500g. Cover the chicken with foil if the skin is getting too dark. Take the chicken out every 15 to 20 minutes and baste with the juices from the pan.

8.

To check if the chicken is cooked put a skewer into the thickest part of the thigh. If the juices run clear the chicken is cooked, if they are pink, put the chicken back in the oven. Once the chicken is cooked, remove it and place onto a dinner plate, breast side down, and cover in foil. Let it rest for 10 minutes before carving.

9.
Can be served hot or cold.
Note
Moderate Salicylates, Low Glutamates, Low Amines
Refer to the basics page for home made bread crumbs.
Variations:
For a gluten-free version use rice crumbs instead of bread crumbs.
For a dairy-free version use Nuttelex instead of butter.
For a low salicylate / FAILSAFE version use swede instead of sweet potato.
Don't eat the skin if Amines are a problem.