Sweet Potato Fries

Print recipe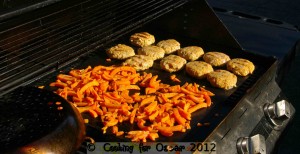 Easy, healthy sweet potato fries.
Ingredients
2 Medium sweet potatoes
Canola oil spray
Salt
Directions
1.

Peel and slice the sweet potatoes into thin rectangles. (I use an attachment on my food processor.)

2.

Place the sweet potato into a saucepan of boiling water with a pinch of salt and cook for 5 minutes.

3.

Drain the sweet potatoes and set aside until ready to cook.

4.

Lightly spray the potatoes with canola oil spray, then cook on the BBQ until tender.

5.
Sprinkle with salt and serve immediately.
Note
Moderate Salicylates, Low Amines, Low Glutamates