Vaniljbullar (Swedish Vanilla Buns)

Print recipe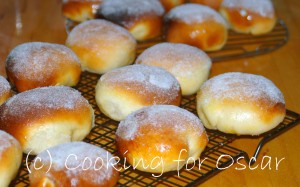 | | |
| --- | --- |
| Serves | 20 |
| Prep time | 2 hours, 15 minutes |
| Cook time | 15 minutes |
| Total time | 2 hours, 30 minutes |
| Allergy / Intolerance | Amines, Artificial Addititives, Artificial Colours, Glutamates, Preservatives, Salicylates |
| Suitable for | RPAH Elimination Diet - Low Chemical / Failsafe |
| Meal type | Sweet Things |
| Misc | Child Friendly, Pre-preparable, Serve Cold |
| Occasion | Easter, Special Occasions |
| Region | Swedish |
| From book | Svenska Folk Baka Mera! |
Swedish Vanilla Buns, easy and yummy.
Ingredients
For the bun
2 1/2 teaspoons Lowan's Instant Dried Yeast (or 25g fresh yeast)
75g butter or Nuttelex
250ml milk
1 egg
100ml white sugar
900ml plain white flour (sifted)
pinch salt
For the filling
200ml milk
1 egg
1 1/2 tablespoon cornflour
1 tablespoon Castor sugar
2 teaspoons Vanilla Sugar (refer to recipe, or use 1/2 tspn vanilla essence)
To decorate
2 tablespoons butter or Nuttelex
1/2 cup castor sugar (approximately)
Directions
Bun Dough
1.
Place the yeast into a medium sized bowl. If using fresh yeast, crumble it.
2.
Melt the butter in a saucepan. Pour in the milk and heat until it is "finger warm" (about 37 C or body temperature).
3.
Pour the milk mixture over the yeast. Add the egg, salt and sugar and mix together.
4.

Stir in all but 50ml of the flour, and work into a smooth dough. Let the dough rise uncovered at room temperature for 30 minutes.

Filling
5.
While the dough is rising, make the filling. Whip together the milk, egg, cornflour and sugar in a saucepan. (Avoid using a steel whisk in an aluminium saucepan.)
6.
Simmer until it thickens, stirring constantly. Remove from heat.
7.

Let the custard cool, then mix in the vanilla sugar.

Make the Buns
8.

Knead the dough on a floured surface (using the left over flour) then roll out to 1cm thick.

9.

Cut a round out of the dough about 8cm to 9cm in diameter.

10.
Stretch the round out a little bit.
11.

Place 1 tspn of filling on the round.

12.

Fold the dough around the filling and close.

13.

Place the bun, smooth side up, on a tray lined with baking paper.

14.
Repeat until all the dough is used up. Allow the buns to rise uncovered at room temperature for about 30 minutes, until they are light and porous.
15.
Preheat the oven to 225 C. Bake the buns for 10 to 15 minutes, or until lightly browned. (The cooking time is almost half this in a fan forced oven).
16.

Cool the buns on a wire rack under a cloth.

Decorate
17.
Melt the butter in a saucepan. Place the castor sugar into a small bowl or plate.
18.
Brush the buns with the melted butter, then dip in the castor sugar.
19.

Serve.
Best eaten on the same day, but these buns keep well in an airtight container until the next day.
Note
Low Chemical / Failsafe
Refer here for the Vanilla Sugar recipe.