Chocolate zucchini cakes are delicious.  The zucchini makes the cake really moist and the little zucchini pieces don't taste a bit like zucchini, it just melts away.  I modified this recipe from one I found on Chocolate and Zucchini (where else!).  It need very little modification and I tried a carob version which was just as good and made them as muffins as well.
Chocolate / Carob Zucchini Cake

Print recipe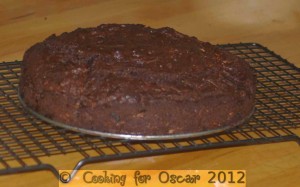 | | |
| --- | --- |
| Serves | 10 |
| Prep time | 25 minutes |
| Cook time | 50 minutes |
| Total time | 1 hours, 15 minutes |
| Allergy / Intolerance | Amines, Artificial Addititives, Artificial Colours, Dairy, Glutamates, Preservatives, Salicylates |
| Suitable for | RPAH Elimination Diet - Moderate Chemical, RPAH Elimination Diet – Very High Chemical, Salicylate Challenge |
| Meal type | Sweet Things |
| Misc | Child Friendly, Pre-preparable, Serve Warm |
| Occasion | Casual Party, Picnic |
Moist, chocolate/carob and zucchini cake
Ingredients
1 cup plain white flour
1 cup wholemeal plain flour
60g unsweetened cocoa powder or carob powder
1 teaspoon baking powder
1 teaspoon bicarbonate of soda
1/2 teaspoon salt
1 cup brown sugar
1/2 cup sunflower oil (or 115g unsalted butter at room temperature)
1 teaspoon vanilla essence
1 teaspoon instant decaffeinated coffee
3 Large eggs
2 cups peeled and grated zucchini (1 - 2 medium zucchinis)
Optional
1 cup good quality chocolate chips or chopped chocolate
Pure icing sugar
Directions
| | |
| --- | --- |
| 1. | Preheat the oven to 180°C and prepare a 20-25cm cake tin. |
| 2. | Sift together the flours, baking powder, bicarbonate of soda, cocoa/carob powder and salt, adding the husks back in. |
| 3. | In a separate bowl beat together the butter/oil and sugar until fluffy. Add the eggs one at a time, vanilla and coffee, mixing well after each addition. |
| 4. | In a large bowl combine the zucchini and chocolate chips. Add one third of the flour and mix to coat the zucchini strands. |
| 5. | Add the rest of the flour to the batter and mix until just combined. Gently stir through the zucchini mixture. |
| 6. | Pour into the prepared cake tin and bake for 40 - 50 minutes. The cake is cooked when a skewer inserted into the centre comes out clean. Allow to cool slightly in the pan then transfer to a wire rack. |
| 7. | Serve warm or at room temperature as is or sprinkled with icing sugar (optional). |
Note
With cocoa and chocolate chips this recipe is Very High Amines, Moderate Salicylates and Low Glutamates
With carob and no chocolate chips this recipe is Low Amines, Moderate Salicylates and Low Glutamates.  The skin can be left on the zucchini if using this cake in a salicylate challenge.
This recipe can also be used to make muffins.  It makes 10 large muffins which take 20 - 25 minutes to cook.
 Coming Up Next Time: Oscar's 4th Birthday Party