Oscar was watching Play School last weekend during which they made an apple and blueberry pie.  Oscar asked if I knew how to make pies, and if I could make one for dinner that night.  He knew he couldn't have blueberries so asked for white chocolate instead (not sure about those flavours!), but Dad suggested banana and apple pie.  I still wasn't convinved but after going to my trusty Google I found this recipe  for Apple-Banana Tart from Lemons and Anchovies.  I really only used the filling part of the recipe, but I may come back to it to make the tart as well.
Apple and Banana Pie

Print recipe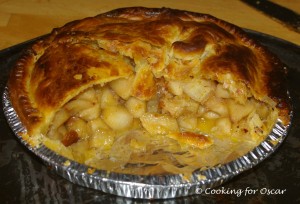 Easy apple and banana pie
Ingredients
2 sheets butter puff pastry (thawed)
6 Small Red or Golden Delicious apples (peeled, cored and diced into 1cm pieces)
1 vanilla bean (split)
1/4 cup brown sugar
2 just ripe bananas (sliced into 1cm pieces)
3 tablespoons butter or Nuttelex
Canola oil spray (for greasing)
Milk (for brushing)
Directions
| | |
| --- | --- |
| 1. | Preheat the oven to 220°C and lightly spray a 20 cm pie dish. |
| 2. | To make the filling melt the butter/Nuttelex in a large frying pan then add the vanilla bean, brown sugar and diced apples. Cook on mediium heat, stirring frequently until the apples are just tender, about 10 - 15 minutes. |
| 3. | Stir in the banana pieces, remove the vanilla bean and remove from the heat. Set aside to cool. |
| 4. | Line the pie dish with one sheet of pastry. Add the filling then place the second sheet over the top. Seal the edges and remove the excess pastry. Use a fork to place a couple of vent holes in the top, then brush the top with milk. |
| 5. | Bake in the oven for 20 - 25 minutes until the pastry is golden brown. |
| 6. | Allow to cool slightly before serving. |
Note
Moderate Salicylates, Moderate Amines, Low Glutamates
Just ripe bananas are moderate in Amines; the riper the banana the more amines it will have.
The vanilla bean can be rinsed and dried and reused to make Vanilla Sugar.
Left over pastry can be refrozen.
Coming Up Next Time: Blinis