Banana and Cashew Chocolate Cake

Print recipe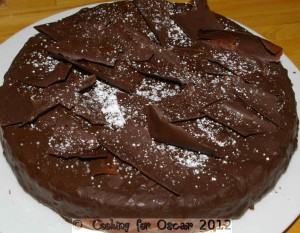 | | |
| --- | --- |
| Serves | 10 |
| Prep time | 1 hour |
| Cook time | 30 minutes |
| Total time | 1 hours, 30 minutes |
| Allergy / Intolerance | Artificial Addititives, Artificial Colours, Glutamates, Preservatives, Salicylates |
| Suitable for | Amines Challenge, RPAH Elimination Diet - Amines Allowed, RPAH Elimination Diet – Very High Chemical |
| Meal type | Dessert, Sweet Things |
| Misc | Child Friendly, Pre-preparable, Serve Cold |
| Occasion | Birthday Party, Casual Party, Special Occasions |
Delicious chocolate cake with mascerated dried bananas and cashews.
Ingredients
For the cake:
60g dried bananas (refer to recipe)
1/4 cup whisky
1/4 cup thickened cream
200g dark cooking chocolate (chopped)
3 eggs (separated)
150g caster sugar
80g unsalted butter
60g plain white flour (sifted)
60g white self-raising flour (sifted)
100g raw cashews (chopped)
pinch cream of tartar
For the ganache:
1 1/4 cup thickened cream
200g dark cooking chocolate (chopped)
1 teaspoon unsalted butter
Directions
To make the cake:
1.
Preheat the oven to 180 C and grease a 20cm cake tin.
2.
Mix the bananas in the whisky.
3.
Pour the cream into a small saucepan and bring to the boil. Reduce the heat to very low and add the chocolate. Stir until the chocolate is melted and well combined.
4.
In a separate bowl beat the egg yolks and sugar until white and fluffy.
5.
Whisk the butter into the chocolate mixture, then slowly add the egg yolk mixture, flours, cashews and bananas and whisky.
6.
Beat the egg whites and cream of tartar until soft peaks form. Fold the egg whites into the chocolate mixture with a spatula.
7.
Pour the batter into the cake tin and bake for 30 minutes. Allow to cool in the pan for 15 minutes before turning out onto a wire rack to cool.
To make the ganache:
8.
Pour the cream into a saucepan and allow to boil. Reduce the heat to low and add in the chocolate, stirring until it is all melted and well combined.
9.
Remove from the heat and whisk in the butter.
To decorate the cake:
10.
While the cake is cooling, pour the ganache over the cake, letting it spread over the top and down the sides. Use a spatula if needed.
11.
Place the cake on a stand or plate and let the icing set.
Note
Very High Amines, Low Salicylates, Low Glutamates
This cake is best the day after it is made.  As an alternative to using ganache icing, just sprinkle the cake with icing sugar or cocoa.  For something a bit fancier, the ganache can be topped with shaved chocolate and icing sugar as in the photo.
Refer here for to make your own dried fruit.