Banana and Ricotta Muffins

Print recipe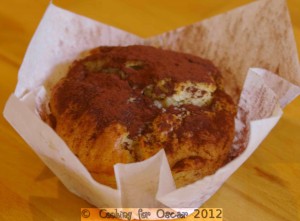 Easy banana and ricotta chocolate-dusted muffins
Ingredients
1 cup plain white flour
3/4 cups wholemeal plain flour
4 teaspoons baking powder
220g butter or Nuttelex
4 tablespoons caster sugar
4 eggs
6 tablespoons smooth light ricotta
2 ripe bananas
Optional
Cocoa powder for dusting (sweetened or raw depending on your preference)
Directions
1.
Preheat the oven to 190°C and prepare two 6-hole muffin trays.
2.
Sift together the flours and baking powder, adding the husks back in.
3.
Place the flour, butter, sugar and eggs into a food processor and blend until well combined.
4.
Mash the banana with a fork then stir through the muffin mixture.
5.
Divide the mixture into the muffin trays and bake for approximately 20 minutes or until the muffins are golden and a skewer in the centre comes away clean.
6.

Allow to cool slightly in the trays then transfer to a wire rack. Serve warm or cold, optionally dusted with cocoa powder.
Note
Low Salicylates, Low Glutamates, High/Very High Amines
With the cocoa these muffins are very high in amines, bananas can be moderate to high in amines depending on how ripe they are.