Best Ever Carrot Cake

Print recipe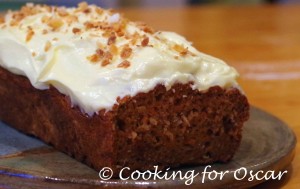 | | |
| --- | --- |
| Serves | 10 |
| Prep time | 15 minutes |
| Cook time | 40 minutes |
| Total time | 55 minutes |
| Allergy / Intolerance | Amines, Artificial Addititives, Artificial Colours, Glutamates, Preservatives, Salicylates |
| Suitable for | RPAH Elimination Diet - Amines Allowed, RPAH Elimination Diet - Moderate Chemical, Salicylates & Amines |
| Meal type | Dessert, Lunch Box, Sweet Things |
| Misc | Child Friendly, Pre-preparable, Serve Cold |
| Occasion | Casual Party, Picnic |
Delicious carrot cake with coconut and apple sauce.
Ingredients
3/4 cups apple sauce (refer to note)
1/2 cup brown sugar
2 eggs
1/2 teaspoon vanilla extract
1/4 teaspoon salt
1 cup grated carrot (approximately 2 small carrots)
1/2 cup coconut puree or grated coconut (refer to recipe)
1/2 cup spelt flour
1/2 teaspoon baking soda
3/4 teaspoons baking powder
1/2 cup wholemeal flour
Optional
1/2 cup chopped cashews
1/2 teaspoon cinnamon (high salicylates)
For the icing: (Optional)
Toasted coconut (to sprinkle on top, refer to recipe)
55g cream cheese
1/4 teaspoon vanilla
115g icing sugar
25g butter (softened)
Directions
1.
Preheat the oven to 180°C and prepare a cake or loaf tin.
2.
Sift together the flours (adding the husks back in), baking soda, baking powder, salt and cinnamon (if using).
3.
In a separate bowl, combine the apple sauce, vanilla, sugar and eggs. Add the dry ingredients and mix until just combined.
4.
Stir in the carrot, coconut puree and nuts (if using).
5.
Pour into the prepared tin and bake for 35 to 40 minutes, or until a skewer in the centre comes out clean.
6.
Allow the cake to cool completely in the tin before turning out.
7.

The cake can be served on it's own, or with the icing.

For an iced cake:
8.
To make the icing combine the butter and cream cheese until fluffy. Add in the vanilla and icing sugar and beat until smooth.
9.

Spread the icing thickly over the top of the cake.

10.
Sprinkle with toasted coconut, if desired.
Note
Moderate Salicylates*, Moderate Amines, Low Glutamates
*Cinnamon is high in salicylates, but such a small quantity spread over 10 pieces of cake should still make this recipe moderate, but if unsure you can leave it out.
The recipes for coconut puree, grated coconut and toasted coconut can be found on the Basics Page.
You can find my recipe for apple sauce on my other blog - Just Simply Food - if made with Red or Golden Delicious Apples it is moderate salicylates.