Carrot and Zucchini Muesli Bars

Print recipe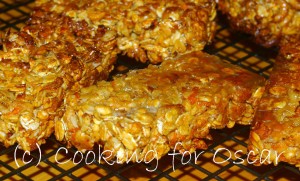 | | |
| --- | --- |
| Serves | 10 |
| Prep time | 45 minutes |
| Cook time | 20 minutes |
| Total time | 1 hours, 5 minutes |
| Allergy / Intolerance | Amines, Artificial Addititives, Artificial Colours, Egg, Glutamates, Preservatives, Salicylates |
| Suitable for | RPAH Elimination Diet - Moderate Chemical, RPAH Elimination Diet – Very High Chemical |
| Meal type | Lunch Box, Sweet Things |
| Misc | Child Friendly, Pre-preparable, Serve Cold |
Muesli bars with hidden vegetables for kids.
Ingredients
2 cups cereal (Refer to note)
2 tablespoons quinoa flakes
2 tablespoons puffed amaranth
1 Small carrot (finely grated)
1 Small zucchini (peeled and finely grated, excess liquid squeezed out)
1 tablespoon rice bran oil
1/4 teaspoon tartaric acid
200g light condensed milk (Refer to note)
Optional
2 tablespoons fresh grated coconut (Refer to recipe)
1/4 cup Nestle White Melts (or chocolate chips if amines are OK)
Directions
1.
Preheat the oven to 180°C and line a large baking tray.
2.
Combine the quinoa, amaranth, cereal, carrot, zucchini, coconut (if using) and tartaric acid in a large bowl.
3.
Add the oil and mix until the cereal mixture is well coated.
4.
Spread the cereal mixture onto the baking tray and place in the oven for about 15 minutes, stirring halfway through. Cook until lightly browned.
5.
Remove from the oven and allow to cool and pour into a large bowl. Reduce the oven to 160°C.
6.
Add the condensed milk and White Melts or chocolate chips (if using) to the cereal and mix until it is well combined.
7.
Divide the mixture into 2 silicon trays of mini-loaf molds (I fill 9 or 10 molds).
8.

Bake for 15 to 20 minutes or until browned.

9.
Remove from the oven and allow to cool completely before turning out of the silicon molds.
10.
Store in an airtight container. These muesli bars keep well for up to 2 months.
Note
Moderate Salicylates, Low Glutamates, Low/Moderate/Very High Amines
Variations:
Fresh coconut is moderate chemical and contains both amines and salicylates.  If these can be tolerated the fresh grated coconut can be included.
Nestle White Melts are a milk based confectionery and are not derived from chocolate, so they are low chemical.  If amines are tolerated you can use any white, milk or dark chocolate that is tolerated.
I use tartaric acid as a preservative to keep the muesli bars for longer so that I can send them to Oscar's day care centre.  You can use citric acid instead, or leave this out if they are going to be eaten quickly.
For the two cups of cereal, start with oats and make up the two cups with other allowed cereals.  We use puffed rice, millet rings, processed bran and/or Special K.
200g of condensed milk is half a can.  The remaining half can be kept in the freeze to use later.
This recipe has been adapted from Muesli Bars - Moderate Chemical by Frilly Pants at Real Meals.