Nectarine and Sour Cream Cake

Print recipe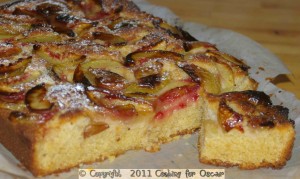 Nectarine and sour cream cake.
Ingredients
3/4 cups wholemeal self raising flour
3/4 cups white self-raising flour
1/4 teaspoon salt
125g unsalted Butter (room temperature)
1 cup caster sugar
1 teaspoon vanilla essence
2 Large eggs
1/2 cup light sour cream
4 Firm, ripe nectarines (stoned and sliced)
1 tablespoon lemon juice substitute (refer to basics page)
1 heaped tablespoon brown sugar
Pure icing sugar (for dusting)
Canola oil spray (for greasing)
Directions
1.
Preheat the oven to 180 C. Grease and line a 18 x 18cm cake tin with baking paper and give a light spray with oil.
2.
Beat the butter and white sugar until light and fluffy. Add in the vanilla essence.
3.
Add the eggs one at a time, beating well after each one.
4.
Sift the flours and salt together, adding the husks back in, then fold into the butter mixture alternating with the sour cream. Start and finish with the flour.
5.
Pour into the prepared cake tin and bake for 15 minutes.
6.
Meanwhile, place the nectarines in a bowl and add the lemon juice substitute and brown sugar. Mix until the fruit is well covered.
7.
Remove the cake from the oven and cover the top with the nectarines. Pour the liquid from the bowl over the top of the fruit.
8.

Put the cake back into the oven and bake for another 25 minutes, or until cooked. A skewer placed in the centre of the cake should come out completely clean. Turn out onto a wire rack, dust with icing sugar, and allow to cool completely.
Note
High Salicylates, Low Amines, Low Glutamates.
Substitute the  nectarines for any stone fruit, or for a lower salicylate version, peeled pears (low) or peeled red/golden delicious apples ((moderate).
Refer to the basics page for lemon juice substitute.