Seafood Pie

Print recipe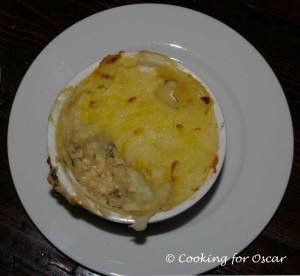 Delicious, creamy seafood pie.
Ingredients
20 Mussels (cleaned)
White wine
30 raw prawns (shelled)
30 scallops
1 Large piece salmon (skin removed)
2 Batches veloute made with fish stock (refer to recipes)
Salt
1/2 cup parsley (chopped)
To top, either:
1 sheet puff pastry
mashed potato
Directions
1.
Preheat the oven to 180°C.
2.
In a large saucepan with a lid, pour in 1/2 cm of white wine and bring to a simmer. Add the mussels and cover the saucepan. Shake the pan until the mussels open. Discard any mussels that don't open. Drain and set aside to cool. Once cool, remove the mussels from the shells.
3.
Slice the salmon into 1-2 cm sized pieces and set aside.
4.

Simmer the veloute until very thick, then stir in the prawns, salmon, scallops and mussels. Add the parsley and stir over low heat until the seafood is cooked.

5.

Pour the seafood filling into a large pie dish or several smaller dishes for individual pies.

6.

Top the pie(s) with puff pastry or mashed potato dotted with butter.

7.

Bake in the oven until the pastry is cooked or the potato is golden brown, approximately 30 minutes.

8.

Serve.
Note
Very High Salicylates and Amines, Low Glutamates
This pie could very easily be made low or moderate chemical by:
Using a low/moderate fish or vegetable stock in the veloute,
Substituting the salmon for fresh white fish,
Steaming the mussels in whisky or vodka,
Leaving out the prawns, and
Using just a small amount of parsley for colour.
Refer here for the fish stock recipe and the veloute recipe (leave out the cream).