Spelt Carrot Muffins with Quinoa Sprinkles

Print recipe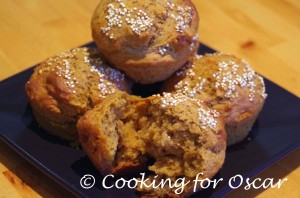 Easy, healthy carrot muffins with crunchy quinoa sprinkles.
Ingredients
300g spelt flour
1/2 cup brown suagr
4 teaspoons baking powder
1 teaspoon bicarbonate of soda
1/2 teaspoon salt
2 eggs
80ml sunflower oil
1 teaspoon vanilla essence
3 Large carrots
1 tablespoon white quinoa
1 tablespoon apple sauce (refer to note)
Optional
Directions
| | |
| --- | --- |
| 1. | Cook the carrots then allow to cool slightly before placing into a food processor to purée. Measure out 1 cup to use in the muffins. Any leftover carrot can be stored in the freezer for use later. |
| 2. | Rinse the quinoa under cold water and set aside. |
| 3. | Preheat the oven to 180ºC and prepare two 6-hole muffin trays. |
| 4. | Sift together the dry ingredients into a large bowl. |
| 5. | In a separate bowl combine the wet ingredients and carrot. Add to the dry ingredients and mix until just combined. |
| 6. | Spoon the mixture evenly between the muffin holes and sprinkle the quinoa on top, press it lightly into the batter. |
| 7. | Bake for approximately 20 minutes, until cooked through. |
| 8. | Allow to cool in the trays until cool enough to handle. Transfer to a wire rack to cool completely. |
Note
Moderate / High Salicylates, Low Glutamates, Low Amines
Cinnamon is very high in salicylates, but in such a small quantity per muffin the overall salicylate level in the muffins would not be high.  If you are unsure as to whether it can be tolerated, it can be left out.
I have an apple sauce recipe on my other blog Just Simply Food, make it with Red or Golden Delicious apples for moderate salicylates.  Pureed pear can also be used instead of the apple sauce.