These marinades are great for adding flavour to meat.
Golden Marinade

Print recipe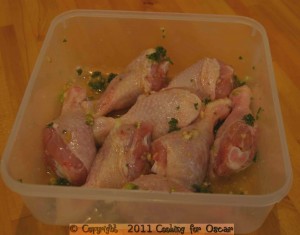 Golden syrup marinade for meat. This is great with chicken done on the BBQ.
Ingredients
3 tablespoons golden syrup
3 tablespoons sunflower oil
1 spring onion (finely chopped)
1 teaspoon parsley (finely chopped)
pinch citric acid
pinch salt
2 cloves garlic (crushed)
Directions
| | |
| --- | --- |
| 1. | Combine all the ingredients in a large bowl. |
| 2. | Add the meat to be marinated and cover with the marinade. |
| 3. | Cover the bowl and place in the fridge for at least an hour (the longer the better), stirring a couple of times to ensure the top of the meat stays covered. |
Note
Low Chemical / Failsafe
This marinade is great with chicken, especially on the BBQ.
Yogurt and Chive Marinade

Print recipe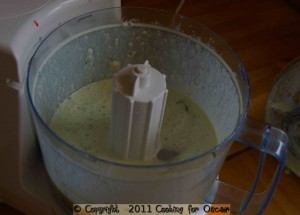 Pear marinade, great for chicken.
Ingredients
1 cup natural yogurt
1 bunch chives
1 pear (peeled and cored)
1 teaspoon minced garlic
Directions
1.
Place all the ingredients into a food processor and blend until smooth.
2.

Add to the meat to be marinated and refrigerate, covered, for at least 30 minutes.
Note
Low Salicylates, Moderate Amines, Low Glutamates
A note on yogurt: "Fresh yogurt, natural, plain or vanilla" is listed in the 2011 version of the RPAH Elimination Diet Handbook as low chemical.  The previous 2009 version listed "Yogurt" as moderate in Amines.   The definition of "fresh yogurt" in the 2011 version is not clear.  All recipes on this site use the moderate amines rating for yogurt.  If you are using fresh yogurt then the amine level of that ingredient will be low.  There may, however, be other amine ingredients in the recipe.