The original recipe, based on a Martha Stewart one, was at 
Cuisine.com.au
.  The flavour of these pancakes is really lovely.  I made the mixture up the night before, stored it in the fridge overnight, then just re-whisked it a bit in the morning.
Buckwheat Pancakes

Print recipe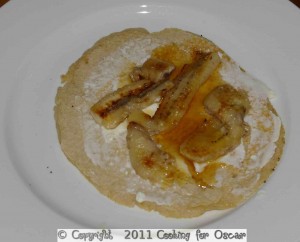 Yummy buckwheat pancakes.
Ingredients
1/2 cup plain white flour
1/2 cup buckwheat flour
1/2 teaspoon baking powder
1/2 teaspoon bicarbonate of soda
1/2 teaspoon salt
3/4 cups buttermilk
1/4 cup milk
1 egg
2 teaspoons rice malt syrup
2 teaspoons unsalted Butter (melted and cooled)
Additional butter (for frying)
To serve:
Smooth light ricotta
Maple syrup
Fresh fruit
Directions
1.
In a large bowl, sift the flours and mix all the dry ingredients together then aerate with a whisk.
2.
In another bowl mix the milk, butter milk, egg, rice malt syrup and melted butter.
3.

Pour the wet ingredients into the dry and stir until well mixed. The pancake mixture can be stored in the fridge until ready to use.

4.

Heat a large frying pan over medium heat and melt a teaspoon of butter and spread over the surface of the frying pan. When the butter is sizzling, pour 1/4 of a cup of batter into the pan, but don't spread out.

5.

Wait until the edges are golden brown and the centre has bubbles in it before flipping and cooking the other side. Repeat for the rest of the batter (makes about 10).

6.

Optional: add some bananas (amines) to the frying pan and cook until browned.

7.

Serve warm with ricotta, maple or rice syrup and fresh fruit.
Note
Low Chemical / Failsafe
Hint: make the pancake mixture the night before and leave in the fridge until morning.