The first time I made these muffins Oscar helped me make them in the morning.  That night we were having a roast for dinner and while I was preparing the vegetables Oscar came into the kitchen.  This is the conversation that followed.
Oscar: what's that mum?
Mum: Carrot
Oscar: I don't like carrot………..what's that?
Mum: Swede
Oscar: I don't like swede………..what's that?
Mum: Pumpkin
Oscar: I don't like pumpkin.
Mum (getting a bit exasperated): What vegetables do you like Oscar?
Oscar: Those (pointing to the pumpkin muffins)!At least he's eating some form of vegetable!The recipe is based on a gluten free recipe from Friendly Food and is listed as a breakfast recipe.  The muffins are quite sweet, a little bit too sweet for me, so I would probably use less sugar next time.
Pumpkin Muffins

Print recipe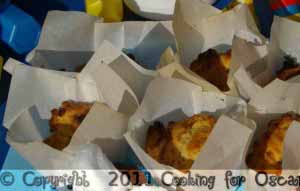 | | |
| --- | --- |
| Serves | 12 |
| Prep time | 20 minutes |
| Cook time | 15 minutes |
| Total time | 35 minutes |
| Allergy / Intolerance | Amines, Artificial Addititives, Artificial Colours, Dairy, Glutamates, Preservatives, Salicylates, Wheat |
| Suitable for | Dairy / Lactose Free, Gluten Free, RPAH Elimination Diet - Moderate Chemical, Salicylate Challenge |
| Meal type | Breakfast, Sweet Things |
| Misc | Child Friendly, Freezable, Pre-preparable, Serve Cold |
| Occasion | Birthday Party, Casual Party |
| From book | Friendly Food |
A breakfast muffin. Pumpkin muffins that are moderate in salicylates, with a gluten-free and dairy-free version.
Ingredients
100g potatoes (peeled and roughly chopped)
100g pumpkin (peeled and roughly chopped)
1 cup plain white flour
1 cup plain wholemeal flour
4 teaspoons baking powder
125g butter or Nuttelex
1/2 cup brown sugar (soft)
1/2 cup pear juice (Refer to the Substitutes page)
Directions
| | |
| --- | --- |
| 1. | Boil or steam the potato and pumpkin for 15 minutes, or until tender. Drain well, then mash. Measure out 1/2 cup of the mash for this recipe. Set aside and allow to cool. |
| 2. | Preheat the oven to 210 C and prepare 2 large muffin trays. |
| 3. | Beat the butter/Nuttelex and sugar together until light and fluffy. |
| 4. | Add the cooled mashed potato and pumpkin and stir through. |
| 5. | Sift the flours and baking powder, adding the husks back in, and add to the mixture alternating with the pear juice. |
| 6. | Spoon the mixture into the muffin pans, then bake for about 12 - 15 minutes or until cooked through. |
| 7. | Allow to cool in the pan for 5 minutes then place on a wire rack to cool. |
Note
Moderate Salicylates,  Low Glutamates, Low Amines
Refer to the Substitutes page for how to make pear juice.
For a dairy-free version use dairy-free margarine instead of butter.
For a gluten-free version use 1/2 cup rice flour, 1/2 cup potato flour, 1/2 cup arrowroot and 1/2 cup maize cornflour (cornstarch) instead of the plain and wholemeal flour, and gluten-free baking powder.