Since cutting out artificial additives, preservatives and colours, I've been surprised by how many "fresh" packaged foods (the ones in the refrigerated section of the supermarket) we had been eating that contain these nasties.  One example is gnocchi, which I have missed.  Until now!  I have finally found a fresh gnocchi that has no artificial nasties and it is Oscar-friendly as well.
The manufacturer is The Element The Ingredient and I found this Traditional Potato Gnocchi at Maxi.  The ingredients are potatoes, white wheat flour, vegetable oil, salt and and pepper.  The pepper (very high salicylates) is going to be such a small amount that Oscar's not likely to react to it, and the potatoes, not knowing the variety, would be moderate salicylates.
We've been having the gnocchi with a vegetable and chicken based sauce that we make from left over roast chicken and vegetables, with a bit of garlic and spring onions added.   The sauce works equally well with any kind of pasta.
Chicken and Roast Vegetable Pasta Sauce

Print recipe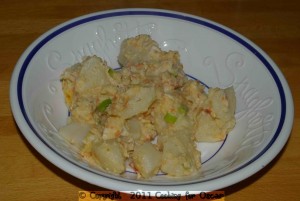 | | |
| --- | --- |
| Serves | 4 |
| Prep time | 15 minutes |
| Cook time | 10 minutes |
| Total time | 25 minutes |
| Allergy / Intolerance | Amines, Artificial Addititives, Artificial Colours, Glutamates, Preservatives, Salicylates |
| Suitable for | Amines Challenge, RPAH Elimination Diet - Amines Allowed, RPAH Elimination Diet - Low Chemical / Failsafe, RPAH Elimination Diet - Moderate Chemical, Salicylate Challenge |
| Meal type | Lunch, Main Dish |
| Misc | Child Friendly, Pre-preparable, Serve Hot |
A low to moderate salicylate pasta sauce made from left over roast chicken and vegetables.
Ingredients
185ml light evaporated milk (or use approximately 150g light sour cream (amines) or light smooth ricotta)
1 cup left over roast chicken (roughly chopped)
2 cloves garlic (crushed)
2 spring onions (finely chopped)
Sunflower oil
1 1/2 cup left over roast vegetables (e.g. potato, swede and beans for low chemical or carrot, sweet potato, pumpkin, parsnip for moderate salicylates.)
Water
Directions
1.
Place the left over vegetables in a food processor and process until pureed. Add the evaporated milk / sour cream / ricotta and process through. Continue processing and add enough water to make a sauce consistency.
2.
Fry the spring onions and garlic in a little bit of oil until soft. Add the chicken and heat through.
3.
Add the sauce to the chicken and stir through until heated.
4.

Serve the sauce with your favourite pasta.
Note
Quantities can be varied, depending on the amount of leftovers you have.
Low chemical / Failsafe, Moderate Salicylate, Moderate Amines