World Food Week started on Sunday.
This is a chance to find out what the United Nations World Food Programme and WeFeedback are doing to feed hungry children around the world.  To find out more, check out these great links:
Ways to help:
Sign-up to make a monthly donation – just $5/month can feed the dream of a young child who will enrol in school, rather than working the fields, thanks to the promise of a daily school meal.
Feedback your favourite meal.  This link will take you to Cooking for Oscar's WeFeedback network page, where you can calculate how many children the cost of your favourite meal can feed.  I've just donated the cost of one of our favourite friday night treats – Fish and chips – and fed 66 children!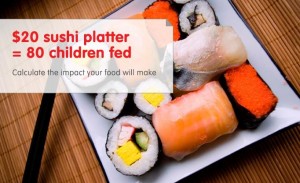 If you can't donate money, spend a bit of time playing FreeRice – every time you make a correct guess 10 grains of rice are donated.  Plus, you'll be working on your vocabulary, so its educational as well – get the whole family involved and see who can win the most rice.