We went to Good Food and Wine show a couple of weeks ago and one of things I found, that I really loved was a range of wholegrain pastas from Pangkarra Foods in the Clare Valley.  I bought some there (definitely not enough) and decided to try and make a no-tomato sauce for spaghetti and meatballs.  Something I hadn't tried yet.  The inspiration for the sauce came from my No-Tomato Sauce and Pumpkin and Lentil Pasta recipes.  It was a winner, even Oscar ate it with no complaints.  Well he did have one: "Meatballs are supposed to be brown mum".  He has "brown" ones at day care, but as we eat mostly white meat at home these were chicken.  Of course the meatballs can be made with any flavour of meat you choose.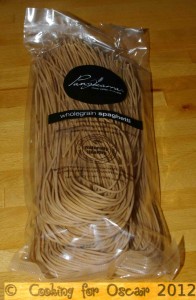 No-Tomato Spaghetti and Meatballs

Print recipe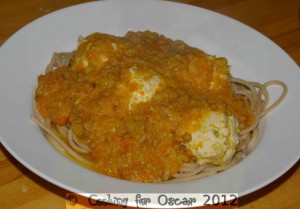 | | |
| --- | --- |
| Serves | 4-5 |
| Prep time | 40 minutes |
| Cook time | 40 minutes |
| Total time | 1 hours, 20 minutes |
| Allergy / Intolerance | Amines, Artificial Addititives, Artificial Colours, Glutamates, Preservatives, Salicylates |
| Suitable for | RPAH Elimination Diet - Moderate Chemical, Salicylate Challenge |
| Meal type | Main Dish |
| Misc | Child Friendly, Freezable, Pre-preparable, Serve Hot |
Tomato-free spaghetti and meatballs.
Ingredients
For the sauce:
1/2 Large leek (finely chopped)
2 teaspoons minced garlic
Sunflower oil
2 Large carrots (roughly chopped)
1 Medium zucchini (peeled and roughly chopped)
1/2 Medium sweet potato (peeled and roughly chopped)
400g tinned chickpeas (rinsed and drained)
500g home made chicken or vegetable stock (Refer to Basics Page)
1 teaspoon citric accid
1 teaspoon salt
2 tablespoons brown sugar
400g tinned lentils (rinsed and drained)
250ml water
For the meatballs:
500g skinless chicken fillets
1 teaspoon golden syrup
1 egg white
2 spring onions (finely chopped)
Directions
To make the meatballs:
1.
Place the chicken fillets in a food processor and process until minced.
2.
In a large bowl, combine the chicken, golden syrup, egg white and spring onions.
3.

Using wet hands, shape the mince mixture into small balls and place on a tray or plate lined with cling wrap. Refrigerate for at least 30 minutes.

To make the sauce:
4.
Place the carrots, zucchini, sweet potato and chickpeas into a food processor and process until finely chopped. Set aside.
5.
In a large saucepan, cook the leek and garlic in a bit of oil for a few minutes until soft.
6.

Add the processed vegetables, stock, water, citric acid, salt, sugar and lentils to the sauce pan. Bring to the boil then allow to simmer for for 20 minutes, stirring occasionally.

7.

Add the meatballs to the sauce and cook for another 20 minutes, or until the meatballs are cooked through. Gently stir occasionally.

To serve:
8.
Cook the spaghetti as per the instructions on the packet, and drain.
9.

Serve the spaghetti into bowls then top with the meatballs and sauce.
Note
Moderate Salicylates, Low Glutamates, Low Amines
Variations: the meatballs can be made with any kind of preservative-free mince.
Refer to the basics page for home made stock recipes.