Welcome back for 2012.
It's been a busy time in the kitchen at Oscar's house this summer.  We've had a breakthrough with vegetables, with Oscar suddenly eating orange ones (carrot and sweet potato) without complaint, and even some greens ones!  I've been putting them into more meals to keep his interest up – salads, sweet potato fries, spring rolls.  My big success in the kitchen was to make a sauce for Oscar that could compete with the tomato sauce that everyone else, including his mum and dad, eat.  And I did it!  It tastes like tomato sauce and looks like the home made tomato sauce my mum and hubby make, but it has no tomatoes and only moderate salicylates.  The recipe is below and is very versatile.  We've tried it in various ways and has become an new addition to regular week night recipes.
We've also had another go at re-introducing high salicylate foods into Oscar's diet, this time without any of the eczema or poo symptoms of previous attempts.  It started with stone fruits – our trees did very well with nectarines, and not so well with apricots and mulberries, this year – and Oscar was interested in picking them, and of course trying them.  We limited it each day to less than half a piece of a fruit. and so far so good.  The Nectarine Sour Cream Cake recipe below I made to use up some of the bucket loads of fruit we had.  It was also good because the fruit was on top, and I could take it off Oscar's piece if I thought he'd already enough high sals for the day.  If amines are tolerated, this cake would work well with any type of fruit.  I've also started including a little bit of corn in his meals as well – I think that will take a while to accept.  Which is  a shame, because before his diagnosis corn on the cob was one of his favourite foods.  But I have hope that he will be able to eat high salicylate foods one day, and that "yellow" vegetables will also become acceptable.
This year I'm only going to blog once per week to start with.  I need to spend some time transferring all my older recipes into the new format I've been using since transferring to WordPress, this will make them easier to print and search for.  I also have lots more recipes that I want to try/modify and need a bit more time to work on those.
No-Tomato Sauce

Print recipe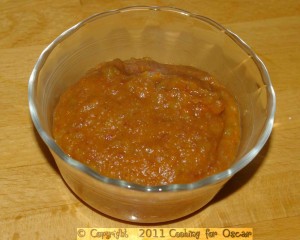 | | |
| --- | --- |
| Serves | 2 cups |
| Prep time | 45 minutes |
| Cook time | 45 minutes |
| Total time | 1 hours, 30 minutes |
| Allergy / Intolerance | Amines, Artificial Addititives, Artificial Colours, Glutamates, Preservatives, Salicylates |
| Suitable for | RPAH Elimination Diet - Low Chemical / Failsafe, RPAH Elimination Diet - Moderate Chemical, Salicylate Challenge |
| Meal type | Condiment, Ingredient |
| Misc | Child Friendly, Freezable, Pre-preparable, Serve Cold, Serve Hot |
| Occasion | Barbecue |
A no-tomato, moderate salicylate, no amines and no glutamates sauce that is just like home made tomato sauce.
Ingredients
1 cup Red Kidney Beans (drained and rinsed)
2 Large Pear halves in syrup (approximately 150g)
1 cup Water
1 teaspoon Citric Acid
1/4 cup White sugar
1 teaspoon Salt
1 stick Celery (trimmed and chopped)
4 Spring onions (chopped)
3 heaped teaspoons Minced garlic
10 Safron threads (soaked in a bit of water)
Optional
2 Medium Carrots (peeled and chopped)
Directions
1.

Place all the ingredients into a saucepan on low heat. Cover and simmer for 20 to 30 minutes until everything is cooked.

2.

Remove from the heat and allow to cool slightly. Then pour into a food processor and blend until very smooth.

3.

Return the sauce to the saucepan. If the sauce is a bit thick add some more water. Allow to simmer for 15 minutes.

4.

There are 3 options for storing:
1. Pour into sterilised jars and seal.
2. Store in the fridge in an airtight container for about 2 weeks.
3. Pour into bags or containers and store in the freezer.
Note
Low/Moderate Salicylates, Low Amines, Low Glutamates
If moderate salicylates aren't tolerated the carrot can be left out.
This recipe can be scaled up to make in a large batch.  Use good quality beans, the sauce can become a bit "beany" when made with cheaper tinned beans.  I use Edgell's Red Kidney Beans 750g tin, which makes a triple batch of the recipe.  You can also use a mixture of red kidney and other tinned beans, although the "red" colour won't be as dark.
The sauce can be used as a condiment (e.g. on meat), as a dipping sauce (e.g. for spring rolls) or as a stir through pasta sauce (e.g. spaghetti bolognaise).
This sauce is a good substitute for home made tomato sauce, which is often made with tomatoes, celery, carrots and sugar (especially after not having tomatoes for a while).  It won't taste anything like the "bright red" store bought tomato sauce / ketchup or an itialian tomato passata.
Nectarine and Sour Cream Cake

Print recipe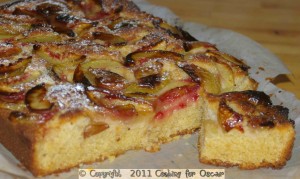 Nectarine and sour cream cake.
Ingredients
3/4 cups wholemeal self raising flour
3/4 cups white self-raising flour
1/4 teaspoon salt
125g unsalted Butter (room temperature)
1 cup caster sugar
1 teaspoon vanilla essence
2 Large eggs
1/2 cup light sour cream
4 Firm, ripe nectarines (stoned and sliced)
1 tablespoon lemon juice substitute (refer to basics page)
1 heaped tablespoon brown sugar
Pure icing sugar (for dusting)
Canola oil spray (for greasing)
Directions
1.
Preheat the oven to 180 C. Grease and line a 18 x 18cm cake tin with baking paper and give a light spray with oil.
2.
Beat the butter and white sugar until light and fluffy. Add in the vanilla essence.
3.
Add the eggs one at a time, beating well after each one.
4.
Sift the flours and salt together, adding the husks back in, then fold into the butter mixture alternating with the sour cream. Start and finish with the flour.
5.
Pour into the prepared cake tin and bake for 15 minutes.
6.
Meanwhile, place the nectarines in a bowl and add the lemon juice substitute and brown sugar. Mix until the fruit is well covered.
7.
Remove the cake from the oven and cover the top with the nectarines. Pour the liquid from the bowl over the top of the fruit.
8.

Put the cake back into the oven and bake for another 25 minutes, or until cooked. A skewer placed in the centre of the cake should come out completely clean. Turn out onto a wire rack, dust with icing sugar, and allow to cool completely.
Note
High Salicylates, Low Amines, Low Glutamates.
Substitute the  nectarines for any stone fruit, or for a lower salicylate version, peeled pears (low) or peeled red/golden delicious apples ((moderate).
Refer to the basics page for lemon juice substitute.