I just had to try this recipe when I found it.  Devil's Food Cup Cakes that had nothing in them – no dairy, no eggs, no sugar, gluten-free, soy-fee and corn-free!  I was sooo impressed that I made them several times trying various combinations – carob/cocoa, milk/rice milk/almond milk, butter/nuttelex/oil, rice malt/maple syrup.    I made a few variations from the original recipe and added my own alternatives.  They were great every time. Everyone loved them and no-one could tell that the first batch I made were with carob.  The frosting is optional; if nuts aren't allowed you could leave them plain, dust them in icing sugar or use a plain or butter-cream icing instead.
And of course, we had to make dinosuar ones, plus some cave men and rocks: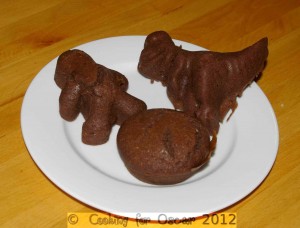 Enjoy!
Devil's Food Cup Cakes

Print recipe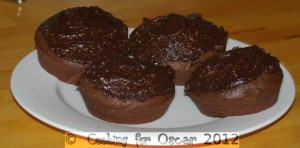 | | |
| --- | --- |
| Serves | 11-12 |
| Prep time | 20 minutes |
| Cook time | 18 minutes |
| Total time | 38 minutes |
| Allergy / Intolerance | Amines, Artificial Addititives, Artificial Colours, Dairy, Egg, Glutamates, Preservatives, Salicylates |
| Suitable for | Amines Challenge, RPAH Elimination Diet - Amines Allowed, RPAH Elimination Diet - Low Chemical / Failsafe, RPAH Elimination Diet – Very High Chemical |
| Meal type | Sweet Things |
| Misc | Child Friendly, Pre-preparable, Serve Cold |
| Occasion | Special Occasions, Valentines day |
Delicious Devil's Food Cup Cakes with Carob or Cocoa, dairy-free, egg-free, low salicylates, low amines, nothing artificial
Ingredients
2/3 cups wholemeal plain flour
1 cup plain white flour
1/2 cup raw cocoa or carob powder
1/2 teaspoon salt
2 teaspoons baking powder
2/3 cups rice malt syrup or maple syrup
1/2 cup sunflower oil, butter or Nuttelex
1 cup milk, rice milk or almond milk
2 teaspoons vanilla essence
For the frosting
1/2 cup cashew paste
3 tablespoons raw cocoa or carob
3 tablespoons rice malt syrup or maple syrup
1 teaspoon vanilla essence
6-8 tablespoons milk, rice milk or almond milk
Directions
For the cup cakes:
1.
Preheat the oven to 180°C and prepare two 6-hole muffin trays.
2.
Sift the flours, baking powder, salt and cocoa/carob powder together in a large bowl, adding the husks back in.
3.
In another bowl combine the syrup, Nuttelex/butter/oil, milk and vanilla.
4.
Add the wet ingredients to the dry ingredients and mix until it is well combined. It should have a thick cake batter consistency. If it is too wet add a bit more flour, or a bit of milk if it's too thick.
5.

Divide the batter into the muffin trays (it makes 11 to 12 cup cakes depending on the shape of your trays). Bake in the oven for 15 to 18 minutes. Allow to cool slightly in the trays then turn out onto a wire tray to cool completely.

For the frosting:
6.

Mix all the frosting ingredients together in a bowl or food processor. Spread over the cooled cup cakes.
Note
Low Chemical / Failsafe, Very High Amines, Salicylates, Dairy-free, Egg-free
I have tried all the variations in this recipe and they all work:
For a low chemical version use carob powder instead of cocoa and dairy or rice milk.
If amines are tolerated use coocoa powder.
If salicylates and amines are tolerated try the almond milk version.
For a diary-free version use Nuttelex or sunflower oil and rice or almond milk.
If cashews aren't tolerated try a butter-cream or glace icing instead, or just dust with pure icing sugar.