My slow cooker has been getting a real work out the past few weeks.  Oscar has given up his day time sleeps (sob!) and is just a mess by the time he gets home from day care.  One of our strategies to combat this has been to make sure we have dinner right on 6 o'clock so that we can get him into bed earlier.  He has always been a night owl with a 8.30/9 pm bedtime for the last 2 or more years, but that won't work any more.  Hence the slow cooker has been in weekly use.  I only work 3 days a week so we use the slow cooker once or twice a week and with leftovers we have those 3 nights covered.  It's wonderful to come home and smell dinner, especially when the house is cold, it just feels warmer on those nights.  We prepare the meals the night before and have everything in the fridge in a large container ready to tip into the slow cooker in the morning.  My cooker is typically on for 10 hours and the food doesn't taste over cooked or burnt.  I have discovered that a little bit of canola oil spray around the edge of the pot, before adding the food, stops it sticking to the sides at the liquid level when I'm not there to stir it.
This recipe is adapted from one on Nibbledish and it is lovely and sweet and warm.
Pumpkin, Sweet Potato and White Bean Stew (Slow Cooker)

Print recipe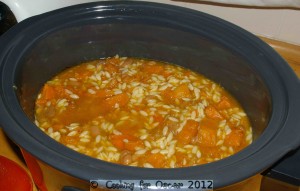 | | |
| --- | --- |
| Serves | 6 |
| Prep time | 20 minutes |
| Cook time | 6 hours |
| Total time | 6 hours, 20 minutes |
| Allergy / Intolerance | Amines, Artificial Addititives, Artificial Colours, Glutamates, Preservatives, Salicylates |
| Suitable for | RPAH Elimination Diet - Moderate Chemical, Salicylate Challenge |
| Meal type | Main Dish |
| Misc | Child Friendly, Freezable, Pre-preparable, Slow Cooker |
Easy and healthy pumpkin, sweet ptoato and white bean stew.
Ingredients
1 tablespoon sunflower oil
1/2 Medium leek (finely chopped)
500g sweet potato (peeled and cut into chunks)
500g butternut / squash pumpkin (peeled and cut into chunks)
2 Small Golden or Red Delicious apples (peeled, cored and diced)
1 can canellini beans (400g, rinsed and drained)
1/2 cup syrup from pears in syrup
3 cups home made chicken or vegetable stock (Refer to Basics page)
Extra water
Salt
1 teaspoon crushed garlic
Directions
| | |
| --- | --- |
| 1. | Heat the oil in a large saucepan and add the garlic and leek. Cook on low for a few minutes until the leek becomes soft. |
| 2. | Add the sweet potato and a pinch of salt and cook for 5 minutes over medium heat. Add the pumpkin and apple and cook for another 5 minutes. |
| 3. | Transfer the vegetables and apple to the slow cooker and add the stock, syrup and beans. Add extra water to ensure that the vegetables are covered. |
| 4. | Cook on low for 6 to 8 hours |
| 5. | Serve with rice, cous cous or pasta. |
Note
Moderate Salicylates, Low Glutamates, Low Amines
For home made stock recipes refer to the basics page.
If you don't have a slow cooker you can cook this stew in the saucepan on a low heat for about 40 minutes.
Coming Up Next Time: "Lemon" Delicious Pudding