These are sooo yummy, and they look very cafe-style in the muffin wrappers.  Warning – these muffins do contain amines, which would make them great for an amines challenge.  The recipe came from BBC Food and needed no modification, but I did swap the flour for half wholemeal.  I also doubled the recipe since 6 muffins are just not enough!  They are delicious with the chocolate dusting, but also still very yummy without it.
Banana and Ricotta Muffins

Print recipe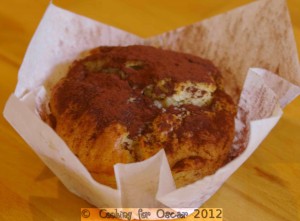 Easy banana and ricotta chocolate-dusted muffins
Ingredients
1 cup plain white flour
3/4 cups wholemeal plain flour
4 teaspoons baking powder
220g butter or Nuttelex
4 tablespoons caster sugar
4 eggs
6 tablespoons smooth light ricotta
2 ripe bananas
Optional
Cocoa powder for dusting (sweetened or raw depending on your preference)
Directions
1.
Preheat the oven to 190°C and prepare two 6-hole muffin trays.
2.
Sift together the flours and baking powder, adding the husks back in.
3.
Place the flour, butter, sugar and eggs into a food processor and blend until well combined.
4.
Mash the banana with a fork then stir through the muffin mixture.
5.
Divide the mixture into the muffin trays and bake for approximately 20 minutes or until the muffins are golden and a skewer in the centre comes away clean.
6.

Allow to cool slightly in the trays then transfer to a wire rack. Serve warm or cold, optionally dusted with cocoa powder.
Note
Low Salicylates, Low Glutamates, High/Very High Amines
With the cocoa these muffins are very high in amines, bananas can be moderate to high in amines depending on how ripe they are.
 Coming Up Next Time: Sweet and Savoury Calzones