Oscar loves baking with bananas, in fact he loves bananas so much that I'm quite sure he would be happy to have them all day long!  Banana muffins are a getting a bit boring, and lately I've been trying to make healthy slices (all of which have failed), so when I came across this recipe on Organic Goodness, I had to try it.  And this time it was not a fail.
Banana Slice

Print recipe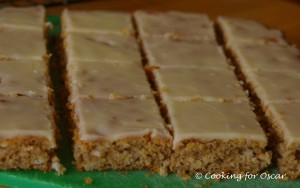 Yummy banana slice.
Ingredients
1 cup plain wholemeal flour
2 teaspoons baking powder
60g butter or Nuttelex (softened and chopped)
1/2 cup brown sugar
1 just ripe banana (mashed)
1 egg
1/4 cup milk
1/4 cup fresh grated coconut
Optional
For the icing:
1 tablespoon butter or Nuttelex (melted)
1 teaspoon hot water
Citric acid (to taste)
7-8 tablespoons pure icing sugar (sifted)
Directions
1.
Preheat the oven to 160°C and grease and line a 15 cm x 25 cm slice pan.
2.
Sift the flour, baking powder and cinnamon (if using) into a bowl, adding the husks back in.

3.
In a separate bowl cream the butter and sugar. Add the banana and beat for 2 minutes, then add the egg and beat until well combined. Stir through the coconut.
4.
Add the flour and milk, alternating until just combined.
5.
Pour into the prepared pan and bake for 25 minutes until a skewer placed in the centre comes out clean.
To make the icing:
6.
Combine the butter, water and citric acid. Add enough icing sugar to make a thick paste.
7.
Allow the slice too cool slightly in the pan then transfer to a wire rack.
8.

While the slice is still warm spread the icing over the top, then allow to cool completely.

9.
When the slice is cold cut into 20 pieces (5 x 4 slices).
Note
Moderate Salicylates, Moderate Amines, Low Glutamates
I have listed this recipe as moderate salicylates even though cinnamon is very high in salicylates.  The amount of cinnamon per slice will be quite small, however if salicylates are a problem leave the cinnamon out.  Just ripe bananas are moderate in amines, if higher levels of amines are OK you can use very ripe bananas which will have a stronger flavour.
Click here for instructions on cracking open fresh coconuts.
Coming Up Next Time: Okonomiyaki