Almost everyone has a recipe for San Choy Bau, so I thought it was about time I shared mine.  Oscar doesn't like his in lettuce cups, so I usually serve it in a large serving bowl lined with shredded lettuce instead.
San Choy Bau (Two Ways)

Print recipe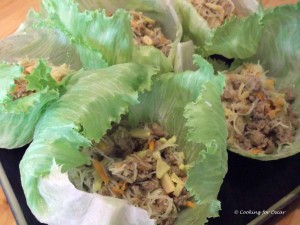 | | |
| --- | --- |
| Serves | 4 |
| Prep time | 20 minutes |
| Cook time | 10 minutes |
| Total time | 30 minutes |
| Allergy / Intolerance | Amines, Artificial Addititives, Artificial Colours, Dairy, Egg, Glutamates, Preservatives, Salicylates, Wheat |
| Suitable for | Amines Challenge, Dairy / Lactose Free, Gluten Free, RPAH Elimination Diet - High Chemical, RPAH Elimination Diet - Low Chemical / Failsafe, RPAH Elimination Diet - Moderate Chemical, Salicylate Challenge |
| Meal type | Main Dish |
| Misc | Child Friendly, Pre-preparable, Serve Hot |
| Region | Asian |
Quixk and easy dinner - San Choy Bau.
Ingredients
1 iceberg lettuce
1 tablespoon rice bran oil
3 spring onions
500g mince (chicken, beef, lamb, pork (amines))
1 Small carrot (grated)
1 Small zucchini (peeled and grated)
1 can bamboo shoots (225g, thinly sliced)
1 clove garlic (crushed)
1/3 cup Failsafe Foodie's Magic Sauce (Refer to recipe)
1/4 cup No-Tomato Sauce (Refer to recipe)
80g vermicelli rice noodles
Optional
1/4 cup cashews (roughly chopped)
Directions
1.
Remove the core of the lettuce and the damaged outer leaves. Separate 8 large leaves and place them in a bowl of icy water. Place in the fridge until needed.
2.
Cook the noodles, drain and set aside. Once cool, cut the noodles into pieces about 4-5 cm long.
3.
Heat the oil in a frying pan over medium heat. Add the spring onions and garlic and cook for 1 - 2 minutes until softened.
4.
Increase the heat to high and add the mince. Cook, stirring, for 4 - 5 minutes until cooked.
5.
Combine the Magic sauce and No-Tomato sauce in bowl and add to the mince.
6.
Add the remaining vegetables and cashews, if using. Mix well and bring to the boil. Reduce the heat, mix in the noodles and simmer for 2 minutes.
7.
When ready to serve, drain the lettuce leaves and pat dry with some paper towel. Place the leaves on a platter and spoon the mince mixture into the lettuce cups.
8.

As an alternative to using lettuce cups, the lettuce leaves can be shredded and used to line a large serving bowl. Spoon the mince mixture over the lettuce and serve from the bowl.
Note
Low/Moderate Salicylates, Low Glutamates, Low / High Amines
Pork contains amines, so use beef, chicken or lamb mince if amines aren't tolerated.  Avoid browning the meat if amines are a problem, adding a bit of water can help avoid this.
If salicyaltes aren't tolerated swap the carrot and zucchini for green beans, bean shoots and celery.
Refer here for the Magic Sauce and No-Tomato Sauce recipes.