Four more days until Christmas!  Are you ready yet?  It's been a bit of rush here, on top of moving, organising for our house to be demolished and finalising our building contract (the thought of my new kitchen keeps me going 🙂 ).
We had a street party last week (our old street) and I needed to bring an Oscar-suitable plate.  Coincidentally, Oscar had asked a couple of weeks before hand if I could make jam tarts for him.  We had pastry and jam on hand, so I decided to make them with a little Christmas twist. Not wanting to put the left over pastry back in the freezer I used it to make some cheese puffs, which went into Oscar's lunch box for "lunch box week" at day care (so this is also my final "Lunch Box Wednesday post" – since I missed the last one!).  Both were quick, easy and suitably festive.
This is also my last post of the year.  I will be back towards the end of January.
Thank you to all my lovely readers/followers for a great year.  I really enjoy your feedback through comments and posts, and look forward to sharing the journey with you again next year.
Take care, and have a happy, safe and wonderful Christmas and holiday season.
Sandra
Simple Christmas Jam Tarts

Print recipe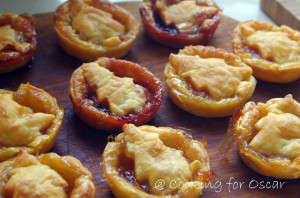 Super easy, fast festive jam tarts.
Ingredients
3 sheets butter puff pastry (or other suitable pastry)
12 tablespoons jam (refer to recipes in notes section)
Optional
Icing sugar (to decorate)
Directions
1.
Preheat the oven to 200°C and prepare two 6-hole muffin pans.
2.
Cut circles of pastry slightly bigger than the size of the muffin holes.
3.
Gently press the pastry circles into the muffin tray holes.
4.
Place a tablespoon of jam in each pastry shell.
5.
Use the left over pastry to cut out Christmas shapes with biscuit cutters to just fit on top of the tart. Christmas trees and stars work well.
6.

Place the shapes on top of the tarts and lightly press into the sides of the pastry shell.

7.

Bake in the oven for 20 - 25 minutes, until golden. Allow to cool in the trays.

8.

Sprinkle with icing sugar before serving (optional).
Note
Low Chemical / FAILSAFE
Any jam can be used for these tarts.  Use pear jam for a low chemical / FAILSAFE version.  There are some jam recipes on the Basics page.
Savoury Christmas Cheese Puffs

Print recipe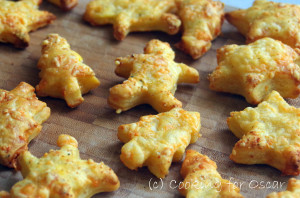 Fun, easy Christmas Cheese Puffs.
Ingredients
1 sheet butter puff pastry
Mild yellow cheese (grated)
Garlic salt
Directions
1.
Preheat the oven to 200°C and line a tray with baking paper.
2.
Sprinkle the thawed sheet of pastry with grated cheese and garlic salt.
3.
Fold the pastry in half horizontally, then in half vertically (so that you have a smaller square).
4.
Roll the pastry out to it's original size.
5.
Sprinkle more cheese and garlic salt on top and press gently into the pastry.
6.

Use biscuit cutters to cut out pastry shapes and place on the prepared tray.

7.
Gather up the left over pastry and repeat steps 5 and 6 until all used up.
8.

Bake in the oven for 10 - 12 minutes until puffed and golden. Allow to cool on the tray before serving.
Note
Low Salicylates, Low Glutamates, Amines
For a FAILSAFE / low amine version the cheese can be left out (which makes them just pastry puffs).
This recipe is a great way to use up left over pastry, and add a bit of fun to Christmas lunch boxes.  Adjust the quantities of cheese and garlic salt to suit your tastes.