I love baking bread, but rarely do it because it means planning ahead for rising time and kneading, which I am terrible at.  So when Oscar asked if I could bake some bread I went searching for a no-knead recipe, and found this one at Barbara Bakes.  The added bonus was that it was a spelt recipe and I didn't need to convert it!  It uses yeast, requires an overnight rise, no kneading and is super yummy.  Especially with home made soup.
Easy Spelt Bread

Print recipe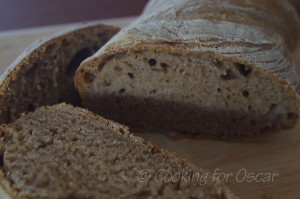 | | |
| --- | --- |
| Serves | 1 loaf |
| Prep time | 14 hours |
| Cook time | 35 minutes |
| Total time | 14 hours, 35 minutes |
| Allergy / Intolerance | Amines, Artificial Addititives, Artificial Colours, Dairy, Egg, Glutamates, Preservatives, Salicylates |
| Suitable for | Dairy / Lactose Free, RPAH Elimination Diet - Low Chemical / Failsafe |
| Meal type | Bread |
| Misc | Child Friendly, Pre-preparable, Serve Cold, Serve Warm |
| Website | Barbara Bakes |
An easy, delicious bread recipe that does not require a mixer with a dough hook or kneading.
Ingredients
200g wholemeal spelt flour
300g white spelt flour
1 3/4 cup warm water
2 1/4 teaspoons dry active yeast
1 teaspoon salt
White spelt flour (extra for dusting)
Directions
1.
Sift the flours and combine with the yeast and salt in a large bowl.
2.
Add the water and mix at high speed with a whisk attachment. Whisk until the dough stops sticking to the bowl.
3.
Cover the bowl (lid or plastic wrap) and let the dough rest overnight in the fridge.
4.
Remove the dough in the morning and allow to rest at room temperature for 2 to 3 hours.
5.
Turn the dough out onto a well floured work surface, then dust the top of the dough with more flour. Divide into two equal log shaped pieces, then twist the pieces together. Work lightly and keep as much air in the dough as possible.
6.
Place the dough on a piece of baking paper and leave it in a warm place to double in size (approximately 2 hours).
7.
Place a baking stone or tray in the oven and preheat to 225°C.
8.
Remove the tray from the oven and transfer the baking paper and dough onto the tray. Lightly spray or sprinkle the dough with some cold water.
9.
Place a pan of water and the dough in the oven and bake for 5 minutes. Reduce the heat to 220°C and bake for another 20 to 30 minutes until the dough sounds hollow when tapped.
10.

Allow to cool slightly before slicing and serving warm. Will last well for a couple of days in an airtight container, and is good for toasting after that.
Note
Low Chemical/FAILSAFE
The original recipe called for misting the dough with water before placing in the oven, spraying water inside the oven, then repeating after 1 minute.  I didn't have a spray bottle, so I used my fingers to flick water over the dough, then placed a pan of water inside the oven instead.