Caramel Popcorn

Print recipe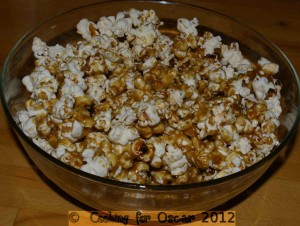 | | |
| --- | --- |
| Serves | 6-8 |
| Prep time | 25 minutes |
| Cook time | 30 minutes |
| Total time | 55 minutes |
| Allergy / Intolerance | Amines, Artificial Addititives, Artificial Colours, Dairy, Egg, Preservatives, Wheat |
| Suitable for | Dairy / Lactose Free, Gluten Free, RPAH Elimination Diet - High Chemical |
| Meal type | Sweet Things |
| Misc | Child Friendly, Pre-preparable, Serve Cold, Serve Hot |
| Occasion | Birthday Party, Special Occasions |
Easy home made popcorn, buttered or with caramel topping
Ingredients
For the popcorn:
3 tablespoons rice bran oil
1/3 cup Lotus Organic popping corn
For buttered popcorn:
2 tablespoons butter or Nuttelex
Salt
For caramel popcorn:
125g butter or Nuttelex
1/2 teaspoon salt
1 cup brown sugar
1/2 heaped teaspoon bicarbonate of soda
1/2 teaspoon vanilla essence
Directions
To pop the corn:
1.
Heat the oil in a large saucepan over medium heat. If you want to salt the popcorn, add it to the oil.
2.
Put 3 or 4 corn kernels into the oil and cover the saucepan.
3.
When the kernels pop add the rest of the corn to the saucepan in an even layer. Cover the saucepan then remove from the heat for 30 seconds.
4.

Return the saucepan to the heat and the corn should start popping very quickly. When the popping starts gently move the saucepan back and forth over the hot plate and keep the lid slightly ajar to let out the steam. Once the popping has slowed down to several seconds between pops, remove from the heat and tip the popped corn into a large bowl.

For buttered popcorn:
5.
Add the butter to the empty saucepan and use the heat of the saucepan to melt it. Pour the melted butter over the popcorn and toss through to coat.
For caramel popcorn:
6.
In a large saucepan melt the butter over medium heat until it starts to bubble.
7.
Add the salt and stir through.
8.
Add the sugar and mix until well combined.
9.
Reduce the heat to low and allow the mixture to bubble (but not boil) for 3 to 5 minutes. The sugar should be completely dissolved and the mixture thick and sticky.
10.
Remove the saucepan from the heat and add in the bicarbonate of soda followed immediately by the vanilla. Whisk until completely combined then pour quickly over the popcorn and toss to combine.
11.

Serve as is for a soft, chewy popcorn.

For hardened caramel popcorn:
12.
For a harder popcorn preheat the oven to 120°C and spread the popcorn over the bottom of a large square/rectangular baking dish. Bake for about 30 minutes, stirring every 10 minutes until the caramel has hardened on the popcorn.
Got Leftovers?
13.

Left over popcorn can be stored in an airtight container and served over ice cream for a delicious dessert.
Note
High Salicylates, High Glutamates, Low Amines