Gravy

Print recipe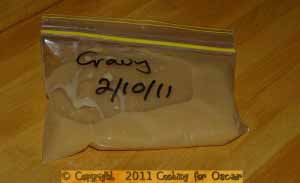 Home made gravy without artificial additives or preservatives.
Ingredients
Roasted chicken in the pan
tablespoon plain white flour
1 cup water
Directions
1.
Remove the cooked chicken from the baking pan and skim off as much oil as possible.
2.
Mix the flour with the water until smooth.
3.
Add the flour and water mix to the pan and stir.
4.

Place the pan onto the stove top and bring to the boil, reduce to a simmer and allow to simmer until the sauce thickens to the desired consistency, stirring continuously. If it becomes too thick, just add more water. Add salt to taste.

5.
Left over gravy can be stored for a few days in the fridge or for longer in the freezer.
Note
High Amines, Low Salicylate, Low Glutamates