Herb Damper

Print recipe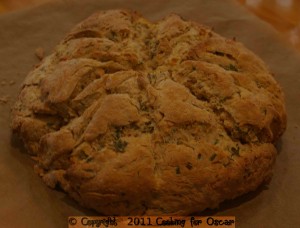 An Australian favourite - damper - with chives and parsley.
Ingredients
1 1/2 cup Plain flour
1 1/2 cup Wholemeal Plain Flour
6 teaspoons Baking powder
1 teaspoon Salt
1/3 cup Parsley (roughly chopped)
1 bunch Chives (finely chopped)
80g Butter (cold, cubed)
1 cup Milk (room temperature)
extra Plain flour (for kneading and dusting)
Directions
1.
Preheat the oven to 200 C. Line a large baking tray with baking paper.
2.
Sift the flours, salt and baking powder into a bowl. Stir in the parsley and chives.
3.
Add the butter, and using your finger tips, rub it into the flour mixture until it resembles fine breadcrumbs.
4.
Make a well in the centre of the flour mixture and add the milk. Mix gently until it starts to come together. Add extra milk if necessary.
5.

Turn the dough onto a lightly floured board and knead lightly. Shape into a 2cm thick round and place on the prepared tray.

6.

Using a sharp knife score the dough into 8 wedges, then dust lightly with a bit of flour. Bake for 20 to 25 minutes or until the damper is light and golden and sounds holllow when tapped on the base.
Note
Low chemical / Failsafe
Traditional Australian damper was made by stockmen, drovers, swagmen and others who travelled and lived in the bush.  It was cooked in the ashes of a  camp fire and the traditional ingredients were what they could carry with them - flour, salt, water, and sometimes milk.