Milk Shokupan, Japanese Style White Bread

Print recipe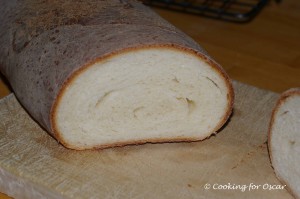 Japanese style white milk bread (Shokupan)
Ingredients
350g plain white flour (sifted)
2 tablespoons white sugar
1 1/2 teaspoon Lowan's Instant Dried yeast
1 teaspoon salt
250ml warm milk (50-55°C)
Canola oil spray (for greasing)
Extra milk for brushing
Directions
1.
In a large mixing bowl combine half the flour with the sugar, yeast and salt.
2.
Add the warm milk and blend, then mix in the remaining flour until it is all combined.
3.

Knead the dough on a floured surface until it is smooth and elastic, or use a mixer with a dough hook to knead for 5 minutes.

4.

Cover the dough with a clean tea towel and set aside in a warm place until it doubles in size (about 1 hour).

5.

Lightly spray a clean surface for rolling on and a rolling pin. Roll the dough into a rectangle approximately 20 cm x 35 cm in size.

6.

Fold over the short ends of the dough.

7.

Roll up the dough from the short side then place the roll on a greased tray with the seam on the bottom.

8.

Cover the dough and let it rise in a warm place until it is doubles in size (approximately 40 minutes). While the dough is rising, preheat the oven to 200°C.

9.

Just before the dough goes into the oven brush the top with some extra milk, then bake for 25 to 30 minutes. When it's cooked the loaf should be golden brown and the top will sound hollow when tapped.

10.
Remove the bread from the oven and let it cool completely on a wire rack.
Note
Low Chemical / Failsafe