No Yeast Pizza Dough

Print recipe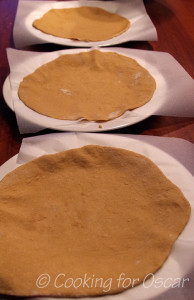 A quick pizza dough when you don't have any to hand.
Ingredients
225g spelt flour
3 teaspoons baking powder
pinch salt
1 egg
1/2 cup milk
2 tablespoons sunflower oil
Directions
1.
Combine the dry ingredients in a large bowl and make a well in the centre.
2.
Whisk together the liquid ingredients then add to the dry ingredients.
3.
Mix into a soft dough.
4.

Divide into 3 to 4 pieces, depending on the size of the pizzas required, and roll out.

5.
Once you've added your toppings cook for 10 - 12 minutes at 200 °C, preferably on a pizza stone or hot tray.
Note
Low Chemical / FAILSAFE
If you don't have spelt flour you can regular white flour.