Penguin Cup Cakes

Print recipe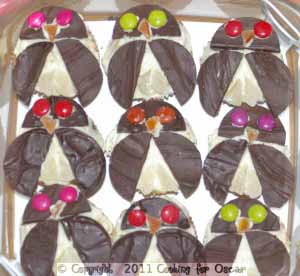 | | |
| --- | --- |
| Serves | 16 |
| Prep time | 1 hour, 30 minutes |
| Cook time | 20 minutes |
| Total time | 1 hour, 50 minutes |
| Allergy / Intolerance | Artificial Addititives, Artificial Colours, Glutamates, Preservatives, Salicylates |
| Suitable for | Amines Challenge, RPAH Elimination Diet - Amines Allowed, RPAH Elimination Diet – Very High Chemical |
| Meal type | Sweet Things |
| Misc | Child Friendly, Pre-preparable, Serve Cold |
| Occasion | Birthday Party, Casual Party, Halloween |
Ingredients
For the cupcakes:
250g unsalted butter (softened and chopped)
250g caster sugar
4 eggs
1 teaspoon vanilla extract
1 1/2 cup white self-raising flour
1/2 cup plain white flour
185ml milk
For the icing:
100g unsalted Butter (softened and chopped)
3 cups pure icing sugar (sifted)
60ml milk
1 teaspoon vanilla extract
To decorate:
375g cooking chocolate (dark or milk)
Dried fruit (cut into triangles for the beak)
Colour-free jubes (cut into triangles for the feet)
50g Smarties (for the eyes)
Directions
| | |
| --- | --- |
| 1. | Preheat the oven to 180 C. Line 2 regular sized muffin pans with cup cake cases. |
| 2. | Put the butter and sugar into a bowl and beat until pale and creamy. Add the eggs, one at a time, then add the vanilla and beat until well combined. Sift the flours together and fold in while adding the milk. Stir until almost smooth. |
| 3. | Divide the mixture evenly between the cup cake cases and bake for 20 minutes. Remove from the oven and leave to sit for 10 minutes then transfer to a wire rack and allow to cool completely. |
| 4. | For the chocolate cut-outs, melt the chocolate as per the instructions on the packet and spread onto a piece of tin foil in a rectangle approximately 25 x 37 cm. |
| 5. | Allow the chocolate to set at room temperature, then use a 5.5cm diameter scone or biscuit cutter to cut out circles of chocolate, then cut each circle in half. You should be able to get 24 circles or 48 semi-circles, enough for 16 cakes. Store them in the fridge until you need them. |
| 6. | For the icing, place the butter and icing sugar in a bowl and beat until pale and creamy. |
| 7. | Add the milk and vanilla and beat until well combined. |
| 8. | To assemble the cakes, cut the tops off the cupcakes, to create a flat surface for the icing and decorations. |
| 9. | Spread the icing over the top of the cake (don't worry about how neat it is as most of the icing is hidden) then add the chocolate semi-circles for the head and wings. |
| 10. | Add the eyes (smarties), beak (paw paw) and feet (jubes), using a bit of icing to stick on the beak and eyes. |
| 11. | If making the day before, store the cup cakes in an airtight container in the fridge overnight, then take them out to come up to room temperature for a couple of hours. |
Note
Very High Amines, Low Salicylates (except for Smarties), Low Glutamates
The cupcakes are a Bill Granger recipe from Bill's Food.
Smarties are made with natural food colours, but these are high in salicylates.
I used dried paw paw(high amines) for the beaks, but any allowed dried fruit, such as pears, could be used.