Large Vanilla Cake

Print recipe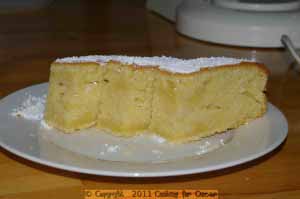 Ingredients
500g butter (softened)
500g caster sugar
6 Eggs
2 tablespoons vanilla extract
3 teaspoons baking powder
580g plain white flour
1 1/2 cup buttermilk
To decorate (Optional)
Directions
1.
Preheat the oven to 180 C and grease and line a large baking tray (e.g. a roasting tray).
2.
Beat the butter and sugar until pale and creamy. Add the eggs one at a time, beating well after each egg goes in. Add the vanilla and mix in.
3.
Sift together the flour and baking powder and gradually add to the cake mixture, beating well.
4.
Add the buttermilk a little at a time until you have a thick creamy batter.
5.
Scrape the batter into prepared tray and bake for 45 minutes or until a skewer poked in the centre comes out clean.
6.

Allow to cool slightly in the pan, then lift out and remove the baking paper. Cool completely on a wire rack before icing.
Optional: dust with sifted icing sugar to decorate.

7.
Store in an airtight container.
Note
This recipe can be halved to make a smaller cake.
Low chemical / Failsafe