Slow Cooker Spelt Pizza Scrolls

Print recipe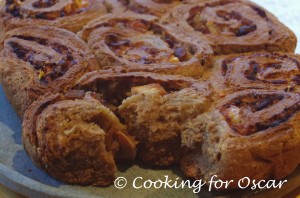 | | |
| --- | --- |
| Serves | 8-10 |
| Prep time | 30 minutes |
| Cook time | 2 hours, 30 minutes |
| Total time | 3 hours |
| Allergy / Intolerance | Amines, Artificial Addititives, Artificial Colours, Egg, Glutamates, Preservatives, Salicylates, Wheat |
| Suitable for | Amines Challenge, RPAH Elimination Diet - Amines Allowed, RPAH Elimination Diet - Low Chemical / Failsafe, RPAH Elimination Diet – Very High Chemical |
| Meal type | Lunch, Lunch Box, Savoury Snack |
| Misc | Child Friendly, Pre-preparable, Serve Cold, Serve Hot |
Slow cooked pizza scrolls with spelt flour. Delicious served hot and great cold in lunch boxes, or warm and wrapped in foil.
Ingredients
450g spelt flour
6 teaspoons baking powder
1 teaspoon salt
1/2 teaspoon bicarbonate of soda
100g butter (room temperature)
1 cup milk
4 tablespoons No-tomato sauce (Refer to recipe)
3/4 cups diced cooked meat (Refer to note)
Optional
1/2 cup grated cheese (amines)
Directions
1.
Preheat the slow cooker for 20 minutes and line the bottom and part way up the sides with a sheet of baking powder.
2.
Sift the flour, baking powder and bi-carbonate of soda twice into a large bowl.
3.
Add the butter, and use your finger tips to mix it in until it resembles bread crumbs.
4.
Add the milk and use a butter knife to mix the dough until you get a smooth dough.
5.
Remove from the bowl and knead on a lightly floured surface until it comes together.
6.
Roll the dough out into a rectangle about 35 x 25cm.
7.
Spread the no-tomato sauce over the dough, then sprinkle with the meat and cheese (if using).
8.
Roll the dough up on the long side until you get a big roll, seal the outside edge.
9.
Slice the roll into 8 - 10 slices.
10.

Place the slices, cut side down, into the slow cooker in one layer.

11.
Place the lid on and cook for 2 to 2 1/2 hours. Avoid taking the lid off too often, as heat will be lost.
12.
To brown the top, place the cooked bread under a grill for a few minutes.
13.

Serve while hot, or can be stored (once cool) in an airtight container for a few days.
Note
Low Chemical / Failsafe, Very High Amines
Refer here for the No-tomato sauce recipe.
For a low chemical version use cooked chicken, Real Deli Chicken or cooked FAILSAFE sausages.
If amines are tolerated use preservative-free ham or bacon.
There is no reason why this couldn't be baked in the oven, I just haven't tried it that way.