Pumpkin and Ricotta Lasagna

Print recipe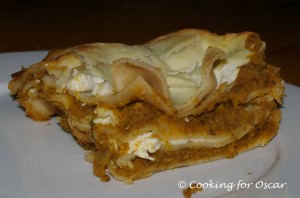 Creamy pumpkin and ricotta lasagna.
Ingredients
600g butternut pumpkin (peeled and cut into 2cm chunks)
Canola oil spray
Salt
1 egg
1 tablespoon chives (chopped)
350g light smooth ricotta
8 Lasagna sheets (enough for 4 layers)
1 400g tin lentils (drained)
Directions
1.
Preheat the oven to 190°C. Line a baking tray with baking paper.
2.
Place the pumpkin on the baking tray, lightly spray with oil and season with salt.
3.
Cover with foil and roast for 25 minutes. Allow to cool slightly.
4.
Puree the pumpkin, chives and lentils in a food processor. Set aside.
5.
Combine the egg and ricotta and season with salt.
6.
Grease a 20 x 20 cm baking dish. Cover the base with lasagna sheets then spread over half the pumpkin mixture. Add another layer of lasagna then half the ricotta mixture. Repeat with layers of lasagna, pumpkin, lasagna, ricotta.
7.
Cover the top with baking paper then foil. Bake for 35 minutes then uncover and bake for another 15 minutes, or until golden on top.
8.
Let stand for 5 minutes before serving.
9.

Serve with salad and/or homemade chips.
Note
Moderate Salicylates, Low Amines, Low Glutamates
You can find some great salad ideas to accompany this dish here, and my home made baked potato chips here.