Pumpkin Stuffed Baked Chicken

Print recipe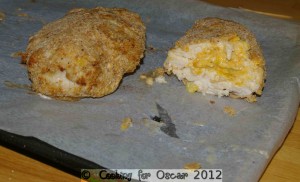 Pumpkin and cream cheese stuffed chicken breasts.
Ingredients
4 Skinless chicken breast fillets
200g Pumkin (peeled and diced)
2 Spring onions (finely chopped)
2 teaspoons Minced garlic
Sunflower Oil
2 tablespoons Light cream cheese
1 Egg
1/2 cup Plain flour
1 cup Home made bread crumbs (Refer to Basics Page)
Salt
Directions
1.
Cook the pumpkin (steam, microwave, boil), and set aside.
2.
Fry the spring onions and garlic in a bit of oil until soft. Add the pumpkin and cook for another 2 to 3 minutes. Transfer to a bowl and roughly mash with a fork.
3.

Stir in the cream cheese and season with salt. Set aside to cool.

4.

Cut a pouch in each chicken fillet and stuff with the pumpkin. Use a tooth pick to close the opening.

5.

Place the flour and breadcrumbs on two large plates. Lightly beat the egg in a large bowl.

6.

Roll the chicken breast in flour, coat in the egg, then roll in the breadcrumbs. Place on a lined baking tray.

7.

Cover in plastic wrap and let chill in the fridge for 30 minutes.

8.
Preheat the oven to 180 C.
9.

Bake in the oven for 30 minutes, turning over after 15.

10.
Serve with vegetables or salad.
Note
Moderate Salicylates, Low Amines, Low Glutamates
Variations:  substitute pumpkin for sweet potato.
Refer to the Basics page for Home Made Breadcrumbs.