Royal Icing

Print recipe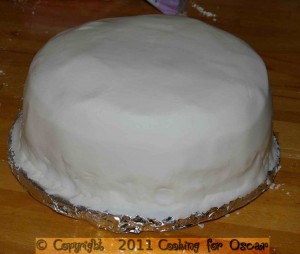 Very easy Royal Icing recipe for rolling and covering cakes.
Ingredients
675g pure icing sugar (sifted)
2 egg white
extra pure icing sugar
Directions
1.
Mix the egg whites with 3 tablespoons of the icing sugar.
2.

Gradually add the remaining icing sugar and mix well until it is soft pliable. If it is too soft, add some extra sifted icing sugar. If it is too dry and crumbly add some more egg white.

3.

Sift some of the extra icing sugar onto a clean work surface, and knead the icing into a soft dough.

4.

Use straight away by rolling and covering your cake, or store in an airtight container in the fridge until ready to use.
Note
Low Chemical / Failsafe
Makes enough to cover a 20cm cake.