Savoury Christmas Cheese Puffs

Print recipe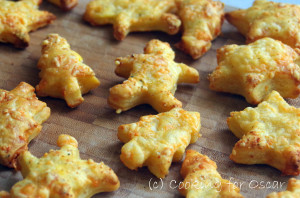 Fun, easy Christmas Cheese Puffs.
Ingredients
1 sheet butter puff pastry
Mild yellow cheese (grated)
Garlic salt
Directions
1.
Preheat the oven to 200°C and line a tray with baking paper.
2.
Sprinkle the thawed sheet of pastry with grated cheese and garlic salt.
3.
Fold the pastry in half horizontally, then in half vertically (so that you have a smaller square).
4.
Roll the pastry out to it's original size.
5.
Sprinkle more cheese and garlic salt on top and press gently into the pastry.
6.

Use biscuit cutters to cut out pastry shapes and place on the prepared tray.

7.
Gather up the left over pastry and repeat steps 5 and 6 until all used up.
8.

Bake in the oven for 10 - 12 minutes until puffed and golden. Allow to cool on the tray before serving.
Note
Low Salicylates, Low Glutamates, Amines
For a FAILSAFE / low amine version the cheese can be left out (which makes them just pastry puffs).
This recipe is a great way to use up left over pastry, and add a bit of fun to Christmas lunch boxes.  Adjust the quantities of cheese and garlic salt to suit your tastes.